Ethisphere Opens 2020 World's Most Ethical Companies® Application Process
Upcoming webcast on Aug. 13 will provide guidance and insights into changes to the 2020 Ethics Quotient® and the World's Most Ethical Companies® application process.
Press Release
-
updated: Aug 6, 2019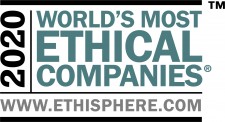 NEW YORK, August 6, 2019 (Newswire.com) - The Ethisphere Institute, a global leader in defining and advancing the standards of ethical business practices, announced today that the 2020 World's Most Ethical Companies evaluation process is now open.
Grounded in Ethisphere's proprietary Ethics Quotient®, the assessment process includes more than 200 questions on culture, environmental and social practices, ethics and compliance activities, governance, diversity and initiatives to support a strong value chain.
In addition to being the basis of determining the annual list of the World's Most Ethical Companies, Ethisphere designed its Ethics Quotient process to capture information and data that leads to practical decision-making and the development of best practices in business ethics.
The process serves as an operating framework to capture and codify the leading practices of organizations across industries and around the globe. The data obtained from the World's Most Ethical Companies application provides a holistic assessment of where companies stand in their programs, allowing them to compare, measure and benchmark against the demanding standards of leading companies. Scorecards will be sent to each applicant following the 2020 honoree announcement.
The deadline to submit the completed assessment and supporting documentation is Friday, Nov. 8, 2019, at 11:59 p.m.
Companies considering participating in this year's application process should register for the upcoming webcast on Aug. 13 at 1 p.m. ET by visiting: https://events.ethisphere.com/events/webcast-wme-2020-app
The application process changes from year to year, and new and repeat participants are encouraged to join this instructive webcast "World's Most Ethical Companies: A Guide to Applying in 2020." This year, participants will have a chance to explore updates to the questionnaire and review the Documentation Guidelines to better understand what materials the review team expects to see as part of a submission. Webcast participants will also have the opportunity to ask questions and glean important insights about the application process. Companies that applied last year will automatically receive updated 2020 information regarding the application process.
"Companies around the world continue to demonstrate a growing commitment to ethics and initiatives that support a healthy business ecosystem," said Ethisphere Chief Executive Officer Tim Erblich. "Today employers are more trusted than other societal institutions, and this is a tremendous responsibility. Like humans, companies aren't always perfect. However, we do think it is important to codify leading practices of ethical performance, to recognize the benefits of doing so and share the ways that organizations of all types can improve. The bottom line is that companies that do good, do better business. The World's Most Ethical Companies designation enables leading companies to showcase their commitment to integrity. We are pleased to provide this opportunity for the 14th year in 2020."
Ethisphere's long-standing belief that financial performance and ethics go hand-in-hand continues to be validated by the "Ethics Premium." Ethisphere's annual practice of tracking how the stock prices of publicly traded honorees compare to a Large Cap Index found that listed 2019 World's Most Ethical Companies outperformed the large-cap sector over five years by 14.4 percent and over three years by 10.5 percent. [https://www.worldsmostethicalcompanies.com]
"Research and our Ethics Premium show a strong correlation between companies acting in ethical and principled ways and strong business performance," said Michael Byrne, Senior Vice President, Ethisphere. "The Ethics Quotient process provides an independent evaluation of a business's compliance and governance processes and compares the findings to data-driven insights from the best of the best in corporate ethics." 
After the webcast, registrants will be sent the Application Guide and invited to request their company's custom URL.
Companies earning the World's Most Ethical Companies distinction in 2020 will be honored at Ethisphere's World's Most Ethical Companies Honoree Gala Dinner in New York City on March 31, 2020.
The gala is followed by the 12th Annual Global Ethics Summit on April 1-2, 2020. The Summit is Ethisphere's premier annual event connecting the most respected and diverse class of company leaders, inspiring companies' commitment to integrity to improve their business performance. Early registration and discounts are available here.
Click here to see a full list of the 2019 World's Most Ethical Companies honorees and download volumes one to three of the 2019 Insights Report series, which showcases data and the programs and practices of leading companies. Complete with informative charts and graphical presentations of usable data, the Insights Report series drives home the value of a first-rate ethics, compliance and governance program.
About Ethisphere 
The Ethisphere® Institute is the global leader in defining and advancing the standards of ethical business practices that fuel corporate character, marketplace trust and business success. Ethisphere has deep expertise in measuring and defining core ethics standards using data-driven insights that help companies enhance corporate character. Ethisphere honors superior achievement through its World's Most Ethical Companies® recognition program, provides a community of industry experts with the Business Ethics Leadership Alliance (BELA) and showcases trends and best practices in ethics with Ethisphere Magazine. Ethisphere also helps to advance business performance through data-driven assessments, benchmarking and guidance. More information about Ethisphere can be found at https://www.ethisphere.com.
###
​Aarti Maharaj​
​Director of Communications
​Aarti.maharaj@ethisphere.com
@Ethisphere​
Source: The Ethisphere Institute
Share:
---
Categories: Business Ethics
Tags: 2020 World's Most Ethical Companies, Benchmark, Ethics Premium, Ethics Quotient, Ethisphere
---