Ethereum Surges 314% as Bitcoin IRA Delivers Stellar Self Directed IRA Returns to Clients
Press Release
•
updated: May 31, 2017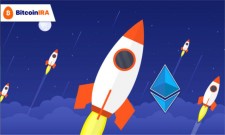 LOS ANGELES, Calif., May 31, 2017 (Newswire.com) - Ethereum is $200, and Bitcoin is over $2,300. Both of these digital currencies started small, offering investors a chance at millions for less than $1.
In just 32 days since the launch of Ethereum IRA, the digital currency also known as Ether rose in value from $48 to its current price of $202, delivering investors a whopping 314% return. Ethereum has piqued the interest of Fortune 500 companies and is considered by many investors and traders to be the hottest altcoin on the market right now.
"Our clients are ahead of the curve; they are early adopters eyeing a massive opportunity as Ethereum and others become the digitization of efficiency in our common lives," said Chris Kline, COO of Bitcoin IRA.
The weekend rise in Ethereum price may have moved lock in step with key partnerships and developments announced over the weekend. Below are the most common reasons that investors cite to justify a $1,000 Ethereum coin:
The People's Republic of China wakes up to Ethereum
China's leading bitcoin and altcoin exchange, Huobi, announced it would offer Ethereum on Wednesday, May 31st, 2017. Huobi is one of the largest exchange players in China, if not the world. If history is any guide, one just needs to look back to when Litecoin started trading on Coinbase; almost immediately, its value skyrocketed.
Ethereum and the Trillion-Dollar Freelancer market
eDEV.one, a remote worker wage payment, and job platform announced its plans to issue a part of its token sale on Danish exchange OpenLedger. Freelancers now makeup 35% of U.S. workers and collectively earned $1 trillion in the past year, according to the Freelancers Union, based in New York City, and the large freelancing platform Upwork, headquartered in Silicon Valley.
Toyota and MIT Partner to accelerate self-driving vehicles
Toyota Motor company has announced a tie-up with MIT to utilize blockchain and distributed ledger technology to speed up the development of autonomous driving technology.
Storj Labs raises millions to disrupt Dropbox
The leading decentralized cloud storage provider has concluded a token sale for its Ethereum-based application token. The platform met its goal of $30 million in just seven days.
The fact that Ethereum continues to be adopted by mainstream exchanges, companies, and initiatives signifies its long-term value.
In Bitcoin IRA's first year since launch, the company's innovative retirement platform was featured in the Wall Street Journal, Barron's and Investopedia for making Bitcoin an easy option for retirement investing. It has also expanded its cryptocurrency offering by adding a secure way to invest in Ethereum as well as Bitcoin.
About Bitcoin IRA
Bitcoin IRA is the only Bitcoin-based retirement investment portfolio that allows people to invest with actual Bitcoins and Ethereum for their IRA or 401(k). The platform works with leading fintech professionals to provide secure, high-quality Bitcoin investments.
Bitcoin IRA offers both traditional and Roth IRA options, which offer the same tax incentives as regular IRAs and 401(k)s. The company differentiates itself from other Bitcoin and Ethereum investment products in multiple ways. Unlike Bitcoin and Ethereum ETFs and investment funds, Bitcoin IRA offers an opportunity for individuals to invest in real Bitcoin or Ethereum at a much lower fee. Also, investors keep total control over their digital wallets, with no holding costs and the ability to withdraw once the term is over.
Learn more about Bitcoin IRA and Ethereum IRA at https://bitcoinira.com/
Media Contact
Contact Name: Amith Nirgunarthy
Contact Email: amith@bitcoinira.com
Location: Los Angeles, USA
Phone: +1.877.936.7175
Bitcoin IRA is the source of this content. Virtual currency is not legal tender, is not backed by the government, and accounts and value balances are not subject to FDIC and other consumer protections. This press release is for informational purposes only.
Source: Bitcoin IRA
Tags
Additional Links