Eterno Escapes Introduces the Latest Luxury Vacation Rental Experience
New travel company offers high-end property rentals worldwide while providing the service and amenities of a five-star hotel.
Press Release
-
updated: May 4, 2017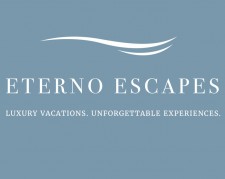 LAS VEGAS, Nevada, May 4, 2017 (Newswire.com) - Eterno Escapes, a new luxury vacation company offering home and villa rentals in some of the world's most desirable destinations with no membership fees, recently announced the launch of its new website for travelers to book their next memorable vacation.
With the goal to redefine the travel experience, Eterno Escapes was created by a group of hospitality professionals with the expertise, knowledge, and desire to deliver the luxury vacation travelers have always dreamed of. Each property in the Eterno Escapes portfolio has been meticulously selected and inspected to meet the company's high standards. From a romantic beachfront condo to a spacious five-bedroom house, they have hand-selected each property to deliver an unparalleled luxury vacation experience.
"Eterno Escapes will bring the single most important thing back to the vacation experience, something that had disappeared in the luxury vacation rental market — and that thing is true exemplary service," said Co-Founder, Louis Roden. "It is not about finding a pretty house on a website, it is about finding people who are delighted when you are delighted. It is about bringing a service level only found in the world's greatest resorts to private home environments. It is about committed delivery."
Eterno Escapes will not only ensure a seamless luxury vacation in stunning properties throughout the world, but the company will also deliver the first-class standards, consistency, customer service, and amenities of a five-star hotel. With this dynamic new approach, Eterno Escapes addresses the ever-fragmented vacation rental industry, where travelers are frequently left disappointed by the quality of properties and service they receive from online portals. Moreover, travelers will receive all of these benefits without having to pay costly membership fees.
"Eterno Escapes will resolve the very fragmented vacation rental industry by delivering first-class service and owning the vacation experience from start-to-finish," said Founder & CEO Pedro Zapata. "Our business is not about renting properties, but rather creating memories while fulfilling our guests' unexpressed wishes."
To begin, travelers will be able to book from six stunning homes in breathtaking Punta Mita, Mexico, which is located north of the famous resort town of Puerto Vallarta. The company will continue to expand into more than 20 destinations worldwide over the next 24 months.
To learn more about Eterno Escapes and its luxury vacation experiences, please visit eternoescapes.com or call 888-35-ETERNO. For the latest news and updates, follow Eterno Escapes on Facebook, Twitter, and Instagram.
About Eterno Escapes
Founded in 2017 by longtime hoteliers Pedro Zapata and Louis Roden, Eterno Escapes provides access to luxury residences in some of the world's most exciting and desirable travel destinations while delivering the high standards, consistency, customer service and amenities of a five-star hotel with no membership fees. From the moment you select a property, the Eterno Escapes team begins to work on a personally curated experience for you and your travel companions. Whether your needs include a chef, driver, childcare or tour guide, Eterno Escapes works with the finest local businesses to ensure a seamless travel experience from start-to-finish. The company was created with one simple desire in mind — to redefine your travel experience at every turn.
###
For further information, please contact:
​Eterno Escapes
​Pedro Zapata
​PZapata@EternoEscapes.com
​Tel: 702-302-0860
Source: Eterno Escapes
---
Categories: Hospitality, Travel, Vacations and Travel, Personal Travel, Travel, Transportation, and Hospitality News
Tags: All Inclusive Vacations, Eterno Escapes, Luxury Vacations, Travel, Vacation Rentals
---