Essilor Vision Foundation Helps Fill the Vision Care Gap
Press Release
•
updated: May 6, 2019
Non-profit's Changing Life through Lenses™ program helps provide glasses to those most in need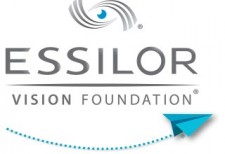 DALLAS, May 6, 2019 (Newswire.com) - "I feel special about getting new glasses. Now when my teacher writes the tiny problems on the chalkboard, I'll be able to see that clearly," says Jay Lynn, a Dallas, Texas-area elementary school student who received a free vision exam and eyeglasses from Essilor Vision Foundation. Jay Lynn was able to get vision care at no cost to her family thanks to charitable eye doctors and non-profit vision partners who are participating in Essilor Vision Foundation's Changing Life through Lenses™. This program provides free glasses to people in need so they can see the world clearly.
America's Vision Crisis
It is estimated that more than 10 million children like Jay Lynn need vision care in the U.S. [1], and half of them face barriers that prevent them from receiving vision services. One in four children in the U.S. has a vision issue significant enough to affect their ability to learn.[2] Given the fact that 80 percent of what a child learns comes through their eyes[3], it's hard to overstate the importance of clear eyesight. While clear vision is vital for everyone, children are especially vulnerable when it comes to their visual health. Vision impacts every aspect of a child's life, from learning, confidence and social interactions to participating in activities like sports, art or music.
The good news is that 80 percent of visual problems can be avoided or corrected[4], often with a pair of eyeglasses. Fortunately, eye doctors across the United States are using Essilor Vision Foundation's Changing Life through Lenses program to support people who do not have the means to get the vision care they need.
Importance of an Eye Exam
As many as 44 percent of parents are not aware that behavioral problems can be an indication that a child's vision is impaired.[5] Parents often believe the vision screening provided at their children's school is the same as an eye exam, but it is not. That is why the American Optometric Association recommends children have their first eye exam with an eye doctor when they are between six and 12 months old.
In addition, families in need may not know how to get vision care for their children. For example, Medicaid covers eye exams, frames and lenses for children under 21 under the Early and Periodic Screening, Diagnostic, and Treatment program, yet many people are not aware that vision care is covered.
How Changing Life through Lenses Works
For those who cannot afford vision care, Essilor Vision Foundation's Changing Life through Lenses provides a free pair of glasses including no-cost lenses, lab services and frames when an eye doctor gives a vision exam to someone in need. The program is for eye doctors and vision nonprofits, not individual patients, and allows them to give back in their own communities. While Changing Life through Lenses focuses on youth, adults also qualify based on economic need. Eye doctors and vision nonprofits can register for a free account at www.changinglifethroughlenses.org and access materials available through the program.
A Big Impact in a Short Amount of Time
Since Changing Life through Lenses was launched in September 2018, more than 1,200 doctors and over 200 nonprofits have enrolled, supporting patients with 50,000 pairs of glasses. "Changing Life through Lenses helps me fulfill my obligation as an optometrist to ensure that no one lacks vision care, no matter what their socioeconomic status is," says Jerry Gundersheimer, OD, of Eye-Do Optical in Sherman, Texas. "Being able to provide an eye exam and prescription eyeglasses to a child who is struggling in school – whether they can't see the blackboard, can't see their books well, are not processing things or not reading on grade level – to be able to turn that around for a child and enrich their education gives me a great sense of satisfaction. We've done that time and time again for needy kids in this area with the help of Changing Life through Lenses."
Through our programs and partnerships, Essilor Vision Foundation has provided over one million pairs of glasses since 2007. Learn more by visiting www.evfusa.org/one-million. Help us reach the next million and make a difference in a child's life today at www.evfusa.org.
# # #
About Essilor Vision Foundation
We strive to give children a brighter future by helping them see the world more clearly. Since 2007, Essilor Vision Foundation has provided more than one million pairs of eyeglasses to individuals in need. Essilor Vision Foundation is a 501(c)(3) public, nonprofit organization, based in Dallas, Texas, committed to eliminating poor vision and its lifelong consequences. To learn more or to donate, visit Essilor Vision Foundation at www.evfusa.org / 1-866-385-0447.
[1] https://www.aoa.org/patients-and-public/caring-for-your-vision
[2] aoa.uberflip.com/i/807465-cpg-pediatric-eye-and-vision-examination
[3] aoa.org/patients-and-public/good-vision-throughout-life/childrens-vision/school-aged-vision-6-to-18-years-of-age?sso=y
[4] who.int/mediacentre/factsheets/fs282/en/
[5] beareye.com/news/Eye-Q-Report-card.pdf
Source: Essilor Vision Foundation
Related Media