Essilor Vision Foundation and Lions KidSight USA Foundation Collaborate to Expand Vision Services for Children
Press Release
•
updated: Apr 15, 2019
Partnership will help more kids around the country receive eyeglasses.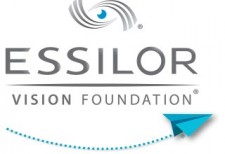 DALLAS, April 15, 2019 (Newswire.com) - More children around the country will have access to vision care with the announcement of a partnership between Essilor Vision Foundation and Lions KidSight USA Foundation, a charitable foundation of Lions Clubs International. The organizations are joining forces to help provide children across the country with eyeglasses as part of their mutual goal of ensuring every child has clear vision.
The need for this partnership is evident: vision impairment is one of the most prevalent disabling conditions among children in the U.S [1]. And while 80 percent of all vision impairment can be treated or cured, often with a pair of eyeglasses, it is estimated that 10 million children ages 5 to 18 in this country have vision issues and need vision care [2].
"Essilor Vision Foundation refers to vision impairment as an invisible problem because unlike hunger or tooth decay, children often do not even know they cannot see clearly. To them, blurry eyesight is normal," says Becky Palm, President and Executive Director of Essilor Vision Foundation. "We are very enthusiastic about our collaboration with Lions KidSight USA Foundation, which enables us to work together to provide vision care for underserved children. Through this partnership, we are offering the Changing Life Through Lenses™ program to Lions KidSight USA Foundation's members and charitable eye doctor network and expanding the availability of vision services across the country." Changing Life Through Lenses is Essilor Vision Foundation's online platform which provides charitable eye doctors and non-profits access to no-cost glasses for patients in need.
Lions KidSight USA Foundation is a nationwide program that screens children ages 6 months through 6 years, and provides screening through the 12th grade where possible. "Regional Lions Clubs have been working with Essilor Vision Foundation since 2007, and we are proud to broaden our relationship with the inclusion of the Changing Life Through Lenses program. Lions KidSight USA Foundation has been a strong advocate of providing vision screening to more than 1.5 million children annually, and this exciting initiative helps to ensure that no child will go without glasses," says Dr. Edward V. Cordes, Past International Director, Lions Clubs International and Chair, Lions KidSight USA Foundation.
Both Essilor Vision Foundation and Lions KidSight USA Foundation are committed to increasing awareness of the importance of visual health and ensuring that more people have access to vision care. By working together, these organizations are taking an important step toward providing all children with the clear vision they need to help them reach their full potential.
# # #
About Essilor Vision Foundation
We strive to give children a brighter future by helping them see the world more clearly. Since 2007, Essilor Vision Foundation has provided more than one million pairs of eyeglasses to individuals in need. Essilor Vision Foundation is a 501(c)(3) public, non-profit organization based in Dallas, Texas, committed to eliminating poor vision and its lifelong consequences. To learn more or to donate, visit Essilor Vision Foundation at evfusa.org/ 1-866-385-0447.
About Lions Clubs International
Lions Clubs International is the largest service club organization in the world. Its 1.4 million members in more than 46,000 clubs are serving communities in more than 200 countries and geographical areas around the globe. Since 1917, Lions' clubs have aided the blind and visually impaired, championed youth initiatives and strengthened local communities through hands-on service and humanitarian projects. Learn more about Lions Clubs International at lionsclubs.org.
[1] Centers for Disease Control and Prevention Vision Health Initiative
[2] http://www.oepf.org/sites/default/files/journals/jbo-volume-22-issue-2/22-2%20Zaba.pd
Source: Essilor Vision Foundation
Related Media