Escape Rooms, Sky Eye, New Food and a Baby Dominate at This Year's State Fair
Press Release
•
updated: Feb 15, 2018
Great weather expected for the final days of the fair. Here's what to look for!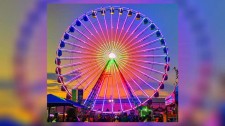 Tampa, FL, February 15, 2018 (Newswire.com) - ​​With just a few days left, the Florida State Fair wraps up a successful 2018 season thanks in part to new attractions, new rides, and an unlikely visitor.
Best Attraction
Without a doubt, the most popular new attraction is the Escape Logics Mobile Escape room. However, if you plan on trying out your escape skills this weekend, good luck. The attraction was so popular that they completely booked their two rooms for the entire fair after just the first weekend, and added an additional outdoor escape room challenge to provide a higher capacity of participants. The outdoor escape is also very popular, and is also now fully booked for the final days. The themes include a Breaking Bad Meth Lab escape room for adults, a Pirate Treasure Trove escape for families, and the outdoor Escape the Fair escape challenge.
Best Ride
Those who are looking for thrills should check-out the new improved rides on the midway including more than 110 rides, divided by a Thrill Zone, Kid Zone and Family Zone, which has high capacity rides that parents and kids can ride together. The most popular rides are the Midway Sky Eye, the largest portable Ferris wheel in North America, towering at 155 feet tall. The fastest ride is the RC 48 coaster, with a steep 70-foot climb and large curved drops and banked turns.
Best Food
Old favorites will return, such as the deep-fried Twinkie and Oreo, the funnel cakes, cotton candy and the increasingly popular Amish doughnuts that are as big as a steering wheel. Check out these new food favorites.
Southern Catfish Sundae: Hand-cut french fries, Southern fried catfish and a slightly spicy Southern remoulade sauce or tangy tartar sauce. Barbecue Pulled Pork Ribbon Fries: Ribbon-cut potatoes fried golden, topped with warm cheddar cheese, sour cream, fresh bacon, hickory smoked pulled pork, and sweet barbecue sauce on top. Deep Fried Strawberry Shortcake: Fresh strawberries mixed into cheesecake filling, frozen, dipped in batter, deep fried and topped with whipped cream and drizzled with strawberry frosting, and served on a stick.
Best Exhibit
There are more than 5,000 animals to see including: The Butterfly Experience – You can use a nectar-soaked sponge to feed a butterfly at the exhibit in the Agriculture Hall of Fame building. Mooternity Ward – Witness the miracle of life of a mother cow giving birth to a calif in the Salute to Agricultural Exhibit.
Speaking of giving birth, Florida State Fair officials held a special ceremony to honor the family of the baby delivered on the Midway a week ago. Lyric Love Robinson was born on Friday, February 9th. The officials presented the family with a gift basket and tickets to the Florida State Fair for life!
The Florida State Fairgrounds are at 4802 U.S. 301 N, Tampa. Admission is $13, $7 ages 6-11, $9 seniors
Source: Florida State Fair