EquipmentShare Selects the City of Trotwood for Dayton Region Expansion, Purchasing 11.6-Acre Site in Trotwood's Industrial Park
Press Release
•
Jul 21, 2023
This location builds onto the company's nationwide footprint.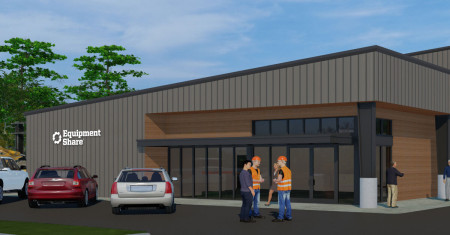 TROTWOOD, Ohio, July 21, 2023 (Newswire.com) - EquipmentShare (https://www.equipmentshare.com/), one of the nation's fastest-growing equipment rental and technology solutions companies, has selected the City of Trotwood for its most recent expansion in Ohio. EquipmentShare has purchased an 11.6-acre site in Trotwood's Industrial and Commerce Park on Prosperity Drive, where it will be developing its Dayton-region facility, making the location its third in the state of Ohio.
Founded in 2015 and headquartered in Columbia, Missouri, EquipmentShare is dedicated to transforming the construction industry through innovative tools, platforms, and data-driven insights. By empowering contractors, builders, and equipment owners with its proprietary technology, T3, EquipmentShare aims to drive productivity, efficiency, and collaboration across the construction sector. With a comprehensive suite of solutions that includes a fleet management platform, telematics devices, and an equipment rental marketplace, EquipmentShare continues to lead the industry in building the future of construction. The Trotwood location will include a variety of equipment, such as general rental equipment, aerial lifts and booms, heavy dirt equipment, power solutions and much more.
"Our T3 technology is what sets us apart and allows us to offer contractors a best-in-class rental experience," said Willy Schlacks, President and co-founder. "Our equipment trackers can provide us with a ton of data so we can take corrective action to help customers save money and prevent downtime, which means they experience less interruptions on the job and can get more work done."
This new development in Trotwood's industrial park, which is directly across Olive Road from the newly finished 200,000-square-foot industrial facility, is another critical development in welcoming more businesses into the Trotwood community and creating more job opportunities for residents. Through this expansion, EquipmentShare will create an estimated 25 living wage jobs and build a new service and sales facility. Those interested in employment opportunities with the company are encouraged to visit the careers page and submit a form for these future positions. EquipmentShare is proud of the innovative People First culture it continues to build - earning recognition from the business community for its career advancement opportunities as well as perks like the tool reimbursement program and the monthly family dinner night stipend. It has been recognized as one of America's Best Startup Employers by Forbes and Statista for the past four years as well as was recognized by Glassdoor for recruitment growth during the pandemic when other companies were slowing hiring or reducing their workforce. EquipmentShare has also been highlighted on Montel Williams' Military Makeover: Operation Career for its veterans programs.
This project is a result of the collaboration efforts among EquipmentShare, GATED Properties Global (GPG), the City of Trotwood, and the TCIC. The TCIC and development partner GPG worked together to market the availability of the property and to work with EquipmentShare to subdivide the land into the space needed for their development.
An official groundbreaking will be scheduled for a later date, closer to when construction is prepared to commence.
"We are proud to welcome EquipmentShare to the Trotwood family," says Mayor Mary McDonald. "The city of Trotwood is happy to have EquipmentShare as the newest development in our industrial park, bringing their state-of-the-art facility and services to this region."
Source: EquipmentShare