ePremium and Aptexx Announce Strategic Integration to Provide Game-Changing Solutions to Property Management Companies
Press Release
•
updated: Mar 15, 2018
The two industry-leading companies are teaming up to provide an unrivaled solution to property management companies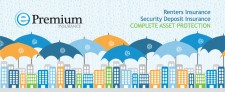 CINCINNATI, March 15, 2018 (Newswire.com) - ePremium Insurance Inc., the multifamily housing industry's gold standard in renters insurance, and Aptexx Inc., a mobile-first property management SaaS solution, announced a strategic integration today. The integration will provide a seamless connection between the Aptexx resident portal, messaging and survey platform and ePremium's renters insurance program management platform which will dramatically increase operating efficiency around liability insurance program management. The integration will provide new automated technology around liability insurance lease compliance enforcement and streamline policy enrollment for new and existing residents.
Founded in 2007, ePremium pioneered liability insurance program management in the multifamily housing industry through the introduction of new technology and enhanced liability coverage. ePremium's enhanced renters insurance policies are designed to protect apartment units from common profit leaks such as pet damage and bed bug remediation.
ePremium is an active member of the National Multifamily Housing Council (NMHC), National Apartment Association (NAA), National Suppliers Council (NSC) and over 45 local apartment associations. The company was ranked on the Inc. 5000 list for three consecutive years and was voted as one of the top workplaces in Cincinnati, Ohio.
"Aptexx is very excited about this integration with ePremium," said William Evick, founder and CEO of Aptexx. "Like us, ePremium is one of the few companies in the multifamily industry that is property management company-centric. Aptexx and ePremium have a shared vision: to help property management companies become more efficient and increase net operating income. Our new integration is a win-win-win ... it's a win for ePremium, a win for Aptexx, and a win for our property management client-base."
The Aptexx Software-as-a-Service (SaaS) platform was developed based on decades of property management industry experience and the growing popularity of smartphone usage in America. The company was founded in 2012 with one key mission in mind: make the interaction between residents and property managers frictionless. Since then, it has a developed a reputation for disrupting the status quo by developing mobile-first solutions that are deeply integrated with their property management clients' existing solutions to make it easier than ever to manage multifamily housing.
The Aptexx SaaS platform is divided into three key solutions designed to serve the entire resident life cycle. Aptexx Collect offers a complete A/R management suite. Property management clients using Aptexx Collect consistently report adoption rates in excess of 80 percent thanks to their mobile-first interface, industry-leading low fees and easy one-tap payment scheduling features. Aptexx Attract offers the first mobile-optimized online rental application that can be completed in under three minutes, along with integrated screening and dynamic lease document signing. Aptexx Engage offers the industry's most advanced collection of tools for both knowing and optimizing resident satisfaction, including two-way text and email messaging, one-tap micro-surveys, automated package notifications and photo-driven maintenance requests. Each Aptexx solution is built on the latest mobile-optimized technology, which leads to higher adoption rates and lower managerial overhead.
"The Aptexx platform is an absolute game-changer in resident communication and servicing technology," said Chad Scott, founder and CEO of ePremium. "Combining this feature-set with ePremium's renters insurance platform will significantly automate renters insurance enrollment, compliance enforcement and improve overall liability insurance program returns. Together, we can add tremendous value to apartment operators by helping them protect their assets, become more efficient and increase net operating income."
About ePremium Insurance
ePremium is headquartered in Cincinnati, Ohio, and they have 16 regional offices across the United States. The company is a leading provider of risk mitigation solutions for the multifamily housing industry. Their renters insurance program, security deposit insurance program and proprietary IRIS software platform is the foundation of their service offering. ePremium's in-house team of licensed customer service representatives and account managers are trained to provide unparalleled support to residents and on-site leasing teams. The company has an A+ Better Business Bureau rating and they are active members in national, regional and local apartment associations. For more information, please visit www.ePremium.com.
About Aptexx
Aptexx offers software solutions that maximize the productivity and profitability of property management companies. Its solutions span the entire resident life cycle, including payments, messaging, surveys, online applications, package tracking and more. What makes these solutions truly game-changing is their mobile-first approach to each aspect. Both property managers and residents consistently report that Aptexx is the easiest solution they have ever used. This success helps hundreds of prominent companies like United Apartment Group, Equity Residential and Mission Rock Residential drive NOI, reduce turnover and enhance their brand image. For information, please visit www.Aptexx.com.
Media Contact:
Ann Padgett
VP of Marketing
ePremium Insurance
(513) 972-4880
ann.padgett@epremium.com
Source: ePremium
Related Media
Additional Links