ePay Presents Payments Awards
Press Release
•
Mar 29, 2023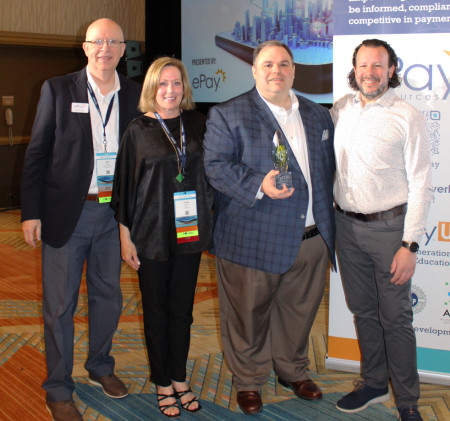 DALLAS, March 29, 2023 (Newswire.com) - ePayResources® presented two awards at its 27th annual conference, ePayConnect 2023, held March 12 - 14 at Disney's Swan and Dolphin Resort in Orlando.
Laura Steele, ePay's CEO, was presented the Richard R. Oliver Leadership in Payments Award for her exemplary leadership in the advancement, implementation, and promotion of electronic payments. Laura's impact on the payments world and on payments professionals is exemplified in her leadership in the formation of the Center for Payments, a collaborative of 10 payments associations for the purpose of advancing the payments industry as a united voice through market intelligence and thought leadership. Her influence has been felt nationwide through her vision to ensure consistency in staff development and member value provided by all the payments associations. She has recently completed a term as the Chair of the Center for Payments' Steering Committee and serves on the RTP Advisory Committee of The Clearing House and on Nacha's Government Relations Advisory Group. In addition to serving on ePayResources' Board of Directors, Laura is also on the Board of Emily's Place, a nonprofit organization that provides long-term housing that is critical for helping domestic violence survivors permanently escape abuse. She is a member of the National Association of Corporate Directors and an Accredited ACH Professional. After 35 years in the financial industry and 10 years with ePay, Laura is retiring in May 2023.
"I am delighted to receive the Richard R. Oliver Leadership in Payments Award," said Steele. "It has been an honor to lead ePayResources and to establish a foundation for the future success of the payments associations nationwide through the Center for Payments."
The Innovation in Payments Award was presented to DJ Seeterlin, Chief Innovation Strategy Officer for Chesapeake Bank in Kilmarnock, Virginia, for significant achievement in developing or implementing innovative payments solutions, tools, and resources that facilitate adoption of emerging payments solutions. DJ has been driving systemic transformation at Chesapeake Bank to enable them to compete in a rapidly changing industry. Not only did he champion the implementation of RTP, but he also worked with a team to launch a Tech Center to encourage payments innovation and collaboration at the bank. DJ and Chesapeake Bank are founding members of the CHUCK open payments hub of the Alloy Labs Alliance, which has enabled banks of all sizes to have an open P2P and social money network for moving payments seamlessly without having to settle for expensive restrictive and closed networks.
DJ also worked with his payments team and outside vendors to transform a legacy multi-day model to be able to allow customers to gain instant digital access to their account through a virtual debit card. The bank worked with its technology vendors to develop a new process for customers to go online or to the bank's mobile app to request an instant virtual Visa-branded debit card connected to their checking account. Creating the new service relied on open-banking API tools from Chesapeake's core bank services provider, Jack Henry & Associates, along with technology from Q2, Chesapeake's online and mobile banking app vendor. Tying it all together was software from Trabian, a subsidiary of MVB Bank.
DJ has been very active in the industry, participating on the Federal Reserve Bank 5th District Payments Advisory Council and the American Bankers Association's Payment Systems and Core Platforms Committees. He recently served as chair of the Core Platforms Committee, which is working with core providers to encourage innovation for community banks and credit unions.
"I greatly appreciate ePay's recognition of Chesapeake Bank," said Seeterlin. "The bank's ongoing innovation has been a tremendous group effort, and I am proud of our team."
About ePayResources: ePayResources® has been empowering financial institutions and businesses to be informed, compliant, and competitive in payments for almost 50 years. As an innovative Payments Association and a founding sponsor of the Center for Payments, we provide emerging and legacy payments expertise, professional development, and industry leadership through education, publications, compliance support, risk management, and advocacy. Our staff of nationally accredited payments and risk professionals provides situational analysis and response guidance on our Payments Answerline™ and keeps you informed of industry developments that impact operational processing, fraud detection, and your bottom line. Our subsidiary, ePayAdvisors™, provides payments audits and risk assessments and customized payments strategy consulting. Visit epayresources.org and follow us on Twitter (@ePayResources_), LinkedIn, Facebook, YouTube, and Instagram.
Source: ePayResources
Tags