Envoy America Launches All-Electric, All-Employee Service for Older Adults and People With Health Impediments
Press Release
•
Aug 29, 2023
New Service Will Launch in September 2023 in Six Cities With an Initial Fleet of 25 Teslas Employing 60 Companion Drivers, Giving Guaranteed Wages and Access to Benefits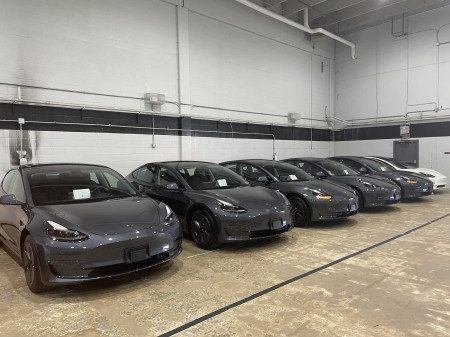 SCOTTSDALE, Ariz., August 29, 2023 (Newswire.com) - Envoy America, the nation's leader in providing on-demand companionship and transportation services for older adults and people with health impediments, today announced that it will launch its all-electric, all-employee service on Sept. 5, 2023, in six cities across Virginia, Texas, Kentucky and Pennsylvania. Envoy America's fleet of Model 3 Teslas will be owned and maintained by the company, with Companion Drivers brought on as employees rather than independent contractors.
Since Envoy America first announced plans to expand into all-electric, all-employee companionship and transportation service, numerous corporate clients have joined the waitlist to become clients, and more than 1,000 Companion Drivers have applied to work for Envoy America. Envoy America will start with 60 Companion Drivers and 10 fleet and operations employees, with guaranteed wages and access to Fortune 100-level benefits.
"The initial response from our corporate clients has been overwhelming, and we can't wait to start serving their members and patients who care as much about the nation's future as we do," said Envoy America CEO and co-founder K. C. Kanaan. "With our all-electric fleet of sedans, we are investing in a zero-carbon transportation future. We would like to thank Access2Care, our corporate launch partner, and the team at Union Leasing for working with us to get the nation's first all-electric, all-employee driven fleet on the road."
"The future of our planet depends on the actions we take today. Our country needs sustainable transportation options and Envoy America's newest companionship and transportation program offers tangible ways to reduce its carbon footprint. I commend Envoy America not only for its leadership in combating climate change, but also as an employer protecting and promoting workers' rights. Innovative and effective solutions that empower employees while protecting our environment are a win for all," said George Sousa, Regional Director, Access2Care.
Envoy America's Companion Drivers are safe, trusted, mature, reliable and compassionate. They pass extensive background and driving checks that include drug testing, federal/state/county checks, Office of the Inspection General screening, Death Master List check, and Social Security verification, and receive rigorous training before getting behind the wheel with older adult riders. The Envoy America Companion Drivers offer warm assistance with getting in and out of the vehicle, taking clients shopping, carrying groceries and packages, waiting with the client at the doctor's appointment, assisting the rider with settling back in their home, helping put groceries away, and doing all this while sharing a smile.
"Access2Care and Envoy America share a common goal to serve the people of our communities and provide them with the best we have to offer," said Scott Ghan, Regional Director for Access2Care. "Earlier this year, Envoy America invested more than $800,000 in the Houston, Texas, area to provide dedicated wheelchair-accessible vehicle services to the Medicaid and Medicare members we serve," added Ghan. "Today, Envoy America has partnered with Access2Care to innovate and enhance companionship and transportation services for members across Texas and in many other states, too. What we do today, together, is for the benefit of all whom we serve."
Transportation and companionship provide older Americans with the ability to retain social connections. In a recent report by the U.S. Surgeon General, estimates show that lacking social connections can increase the risk of premature death to levels comparable to smoking 15 cigarettes a day. Connecting socially significantly improves the health and well-being of all individuals by reducing the risk of premature mortality.
About Envoy America
Founded in 2015 in Scottsdale, Arizona, Envoy America unlocks the full potential for older adults by providing best-in-class, safe, trusted, reliable and cost-effective companionship, assistance and transportation services to help them stay healthy, independent and socially active.
Our service helps the businesses that serve older adults grow their market share, increase their star rating, offer differentiated services and lower their overall costs. These businesses include health plans, accountable care and healthcare organizations, senior living communities, transportation brokers, and faith-based organizations. For more information, visit www.envoyamerica.com.
Source: Envoy America