Environmentalists Speak Out About Earth Related Issues at Historic Bank of Clearwater for Earth Day
Press Release
-
Apr 28, 2016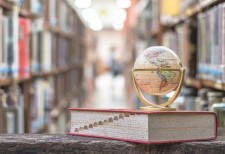 Clearwater, FL, April 28, 2016 (Newswire.com) - Environmental speakers, activists, and concerned citizens joined together to acknowledge those protecting the Earth and encouraged renewed efforts at the Earth Day reception held at the Historic Bank of Clearwater, Downtown Clearwater from 6-8pm.
Focusing on the issues of soil re-mineralization and water purity, Ms. Jay McFall and Mr. Winston Kao (both leaders in their fields) spoke to the attendees about the decline of these natural elements and its effect on one's health. They also spoke of initiatives one can engage in to address these problems.
Ms. Tanya Cranton, Executive Director of the Way to Happiness Association Tampa Bay, shared the activities that their association has undertaken to safeguard and improve the environment.
"Our activities include regular community clean ups and beautification projects from cleaning the beach on World Environment day, to neighborhood clean-ups, and picking up litter on the Pinellas Trail," stated Cranton, "We also work to educate  the community of the importance of keeping the environment clean".
The Way to Happiness, a non-religious, non-political, common sense guide written by Mr. L. Ron Hubbard, Humanitarian, Horticulturist, and founder of the Scientology Religion.
"The idea that one has a share in the planet and that one can and should help take care for it may seem very large and, to some, quite beyond reality," wrote Mr. Hubbard, "But today what happens on the other side of the world, even so far away, can effect what happens in your own home."
"The Earth Day Reception at the Historic Bank of Clearwater is the first of its kind at the Center, bringing together environmentally conscious individuals. The event provided a platform for collaboration," said Center Manager, Amber Skjelset.
Since the center's opening on July 11th 2015, the Center has welcomed some 8,000 visitors to the Information Center which provides a destination in Downtown Clearwater where anyone can visit and get their questions answered about Scientology and attend community events.
"There are hundreds of events happening all over the community in honor of protecting Earth," stated Amber Skjelset, Manager of the Scientology Information Center, and the event's emcee. "The Church of Scientology applauds these activities and especially recognizes those who work to protect it 365 days a year."
Award-winning composer, filmmaker, and artist, Mr. Neal Fox entertained the guests with his original piano songs throughout the event.
Upcoming events in the Information Center are:
April 29th: Special Open House Reception for Blast Friday Concert Attendees
May 1st : Upscale Piano Concert  in honor of Mother's Day
May 11th : Local Business/Chamber of Commerce Reception
May 18th : East Coast Golden Age Theatre, Old-Time Radio Style Fiction Readings
May 27th : Special Open House Reception for Blast Friday Concert Attendees
For more information or to attend future events please contact Amber Skjelset (Manager) at 727-467-6966 or e-mail her at amber@cos.flag.org.
About the Church of Scientology:
The Scientology religion was founded by humanitarian and philosopher, 
L. Ron Hubbard. The first Church of Scientology was formed in the United States in 1954 and has expanded to more than 11,000 churches, missions and affiliated groups, with millions of members in 167 nations. Scientologists are optimistic about life and believe there is hope for a saner world and better civilization, and actively do all they can to help achieve this. Based on L. Ron Hubbard's words, "A community that pulls together can make a better society for all." the Church of Scientology regularly engages in many humanitarian programs and community events.
Contact Amber Skjelset (727) 467-6966
Source: ScientologyNews.org
Share:
---
Categories: Environmental Protection, Environmental and Waste Management, Environmentalism
Tags: re-mineralization, The Way To Happiness, water purity
---