EnterTalk Radio's Popular "Jackie's Groove" Interviews Cast of Upcoming Documentary Film "Hired Gun"
Press Release
-
updated: Jun 28, 2017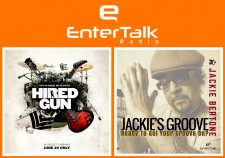 San Diego, Calif., June 28, 2017 (Newswire.com) - EnterTalk Radio, the undisputed leader in music business talk and programming, announced that its popular podcast show "Jackie's Groove" featuring percussionist Jackie Bertone has joined forces with the upcoming documentary "Hired Gun" to put the spotlight on some great unsung musicians who play alongside some of today's top artists. The one-night-only event is in theaters nationwide on June 29 sponsored by Fathom Events. View the trailer for the film here: https://youtu.be/P9VXLyh-BXQ
"Hired Gun" is the story of the musical talent responsible for the most famous instrumental solos in the world, who have toured with the musical legends who hired them. The hired gun community lives and breathes music, and, for the first time, its members share their incredible stories and exclusive musical performances with the world in this inspiring new documentary.
They are recognized as some of the best musicians in the world, and include Jason Hook (Five Finger Death Punch), Liberty DeVitto (Billy Joel), Kenny Aronoff (John Mellencamp), Rudy Sarzo (Ozzy Osbourne), Phil X (Bon Jovi), Justin Derrico, Mark Schulman (P!NK), Ray Parker Jr. (Ghostbusters), Jason Newsted (Metallica), Eric Singer (KISS), John 5 (Rob Zombie), Glen Sobel, Nita Strauss (Alice Cooper), Steve Lukather (Michael Jackson, Toto), Steve Vai (David Lee Roth), Paul Bushnell (Katy Perry), Jay Graydon (Steely Dan), Derek St. Holmes (Ted Nugent), Chris Johnson (Rihanna), music producer David Foster, and featuring Alice Cooper and Rob Zombie, and more. These "hired guns" have mastered their craft and performed on the greatest stages and in high-intensity recording sessions, yet rarely receive credit for their work. In the vein of the 2014 Academy Award©-winning doc "20 Feet from Stardom," "Hired Gun" details the highs and lows of touring life, the demands of session schedules, and the dedication required to play backseat to some of rock's most iconic musicians.
"EnterTalk Radio is to go-to source for great interviews, stories and content about the music industry like the Jackie's Groove interviews of the Hired Gun cast," said Florentino Buenaventura, CEO of EnterTalk Radio.
For more information about Entertalk Radio's "Hired Gun" cast interviews, please visit http://entertalkradio.com/hired-gun/
About EnterTalk Radio
Based in San Diego, Calif., and founded in 2015, EnterTalk Radio is the undisputed leader in music biz talk with more than 15 syndicated programs on various music-related subjects airing 24 hours a day at www.EnterTalkRadio.com and via the EnterTalk Radio app, which is downloadable from the iPhone & Google app stores. EnterTalk Radio specializes in radio programming that speaks to the music professional about his or her respective area of interest. Radio shows are hosted by top music industry leaders such as Jackie Bertone host of "Jackie's Groove", John "JR" Robinson host of "Vinyl Night", Terry Wollman host of "Making It!", Tim Dolbear host or "Sound Experience", Scott Robertson host of "May the Best Brand Win", and Paul Nikolas host of Going To Get Loud. The company is comprised of entertainment professionals who have a comprehensive understanding of today's music industry landscape and a passion to inform, educate and entertain audiences around the world that work in, are passionate about, or just intrigued by the entertainment industries. For more information, please visit www.entertalkradio.com or e-mail press@EnterTalkRadio.com.
Source: EnterTalk Radio
Share:
---
Categories: A&E News, Music, Radio
Tags: "HiredGun", "Jackie's Groove", EnterTalk Radio, musci biz talk, music interviews, music podcast, talk radio
---