Enter for a Chance to Win a Bobby Portis-Signed Copy of 'The Elf Games'
Press Release
•
updated: Dec 1, 2020
What's better than a copy of The Elf Games? How about a signed copy from Bobby Portis?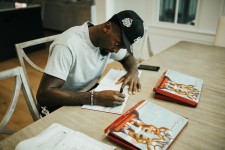 CHICAGO, December 1, 2020 (Newswire.com) - Sports do more than just entertain. They provide us with valuable lessons about sportsmanship, teamwork, imagination, and determination, all of which The Elf Games brings to life as this season's hottest children's holiday book.
Bobby Portis, a forward with the New York Knicks, lives these qualities and is a role model for children everywhere. That's why Chad Scott, the author of The Elf Games, is excited to announce that readers will have the chance to win a Bobby Portis-signed copy of the book.
"I'm ecstatic that Bobby Portis is supporting The Elf Games and signing select copies of our children's book," said Scott. "This gesture is a testament to the positive impact this story will make on kids throughout the country and beyond."
The North Pole serves as the festive backdrop for this children's book that was co-authored by Chad Scott, with contributions from his wife and three children, and infuses the timeless underdog plot to the magical Christmas stories we've grown to love.
Readers have a front-row seat as Connor, the protagonist of this story, and his new teammates go on an adventure in the North Pole and take on a group of mischievous elves under the watchful eye of one very jolly Coach Claus.
Families everywhere will be entertained while learning about the importance of treating others fairly, being a good teammate, the beauty of imagination, and the progress a person can make with a determined spirit.
Here's how to enter:
"Like" The Elf Games on Facebook
​"Like" and share the giveaway post​​
While Connor is the hero of The Elf Games, Bobby Portis is a hero on the court, and these signed copies make for the perfect gift during the holiday season.
About "The Elf Games"
From sportsmanship to empathy and everything in between, "The Elf Games" shares valuable and inspiring lessons within this beautifully written and illustrated holiday title. In fact, Peter Foyo has said "The Elf Games" is "The most beautifully illustrated and unique Christmas story for kids in 2020!" The holidays are around the corner, and "The Elf Games", which combines education with entertainment, is the perfect story that young readers are sure to enjoy.
CONTACT INFORMATION:
Tiffany Kayar
tiffanyPR@newswirecontact.com
Source: Chad and Mary Scott