Engineered Medical Technologies Introduces tCheck
New handheld device allows medicinal cannabis users to test potency at home
Press Release
-
May 11, 2016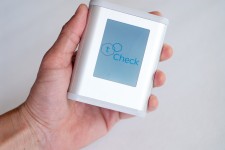 Sacramento, CA, May 11, 2016 (Newswire.com) - California-based start-up, Engineered Medical Technologies, releases first-of-its-kind device aimed at helping those using medical marijuana.
The cell-phone sized tCheck easily calculates the potency of cannabis infused oils, allowing users to measure the dosage in their homemade cannabis edibles.
This type of testing, previously reserved only for cannabis dispensaries or those with the ability to afford costly lab fees, is now easy and inexpensive with tCheck, and puts the control back into the hands of the patient. 
Until now, patients using medicinal cannabis as an alternative or complimentary treatment for conditions such as cancer, glaucoma, epilepsy, PTSD, depression, and pain have had to use a combination of guesswork and trial-and-error in order to effectively treat their symptoms while avoiding unwanted side-effects.  tCheck makes it convenient, easy, and affordable for patients to get the right dose each and every time.
Limited quantities now available for pre-order.
For more information or to place a pre-order, please visit http://www.tcheck.me, or contact Peichen Chang. VP of Sales and Marketing, at 916-521-7655
Source: Engineered Medical Technologies
---
Categories: Healthcare and Medical News, Drug Care, Food Sciences
Tags: cannabis, Medical marijuana, potency testing
---