ENERGY Transportation Group Ranks No. 271 on The Globe and Mail's Annual Ranking of Canada's Top Growing Companies
Press Release
•
Sep 23, 2022
For the second year in a row, ENERGY Transportation Group has been included on The Globe and Mail's list of Canada's Top Growing Companies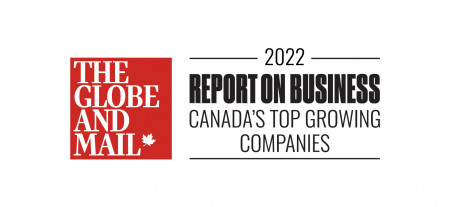 MONTREAL, September 23, 2022 (Newswire.com) - ENERGY Transportation Group, a leading cross-border freight provider, is pleased to announce it placed No. 271 out of 430 companies on The Globe and Mail's 2022 list of Canada's Top Growing Companies.
Canada's Top Growing Companies ranks Canadian companies on three-year revenue growth. ENERGY Transportation Group earned its spot with three-year growth of 127%.
"At ENERGY, we strive to provide the best client and partner experiences in our industry," said Shawn Girard, CEO of ENERGY Transportation Group. "And we do that by providing a great environment for our people to thrive."
"The loyalty that our people, customers, and partners have shown us over the years cannot be understated," said Michael Cinquino, President of ENERGY Transportation Group. "Their unwavering support demonstrates the true value of collaborating with us, and we continue to strive to create the best partnership experiences for all our stakeholders."
To be ranked on The Globe and Mail's list of Canada's Top Growing Companies for the second year in a row further validates ENERGY Transportation Group's strategy to provide a best-in-class service standard for its logistics partners.
ABOUT CANADA'S TOP GROWING COMPANIES:
Canada's Top Growing Companies is an editorial ranking launched in 2019. It aims to celebrate the boldest entrepreneurial achievement by identifying and bringing the accomplishments of innovative businesses in Canada to the forefront. Companies had to complete an in-depth application process and fulfill requirements to qualify for this voluntary program. In total, 430 companies earned a spot on this year's ranking.
The complete list of 2022 winners, along with editorial coverage, is published in the October issue of Report on Business magazine. To review the online list, click here.
ABOUT ENERGY TRANSPORTATION GROUP
Founded in 2007, ENERGY Transportation Group is an asset-based 3PL offering logistics and warehousing services across the North American market. Headquartered in Montreal, ENERGY has offices in Toronto, Laval, Chicago, and Chattanooga. ENERGY prides itself on providing personalized, innovative, and win-win solutions to meet even the most complex shipping and logistics challenges.
Learn more about ENERGY by visiting our website at www.shipENERGY.com or connecting with us on LinkedIn.
FOR MORE INFORMATION, PLEASE CONTACT:
Adam Pinsky, Marketing Director
ENERGY Transportation Group
+1 (438) 835-6033
apinsky@shipENERGY.com
Source: ENERGY Transportation Group