Encrypted Backup to the Cloud - ASCOMP Releases BackUp Maker 8.1 for Windows
Press Release
•
Feb 22, 2022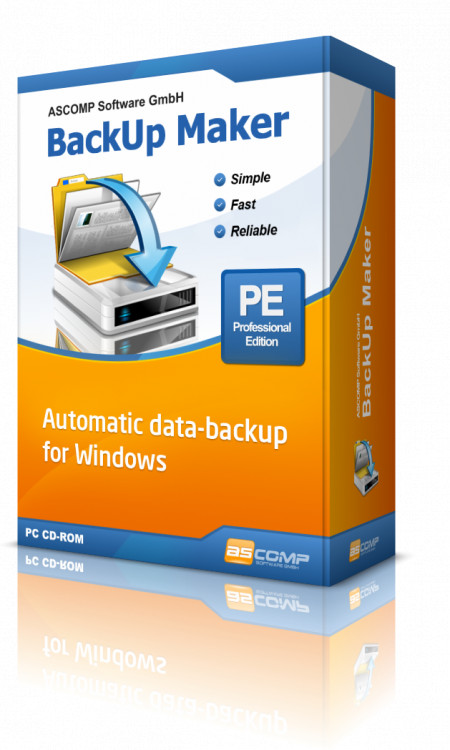 LEONBERG, Germany, February 22, 2022 (Newswire.com) - Data loss results in billions of dollars in losses year after year. The causes range from hardware defects and malware to operating errors and external influences - and data loss doesn't just affect companies. Data is also lost every year in private households, the value of which can't be quantified in dollars. For data to be protected against loss, data backups should be conducted on a regular basis.
With BackUp Maker, ASCOMP Software provides a data backup solution for Windows operating systems that is suitable for private users and companies alike and offers a compression and encryption functionality.
Automatic backup without prior knowledge
With just a few clicks, backup jobs can be created in BackUp Maker to reliably store selected data in the desired location. The backup in the widely used Zip format is not only space-saving but can also be restored in an emergency with Windows onboard resources without the need for special software.
Whether at freely definable intervals, at specified times, or simply when shutting down the system - once it is set up, BackUp Maker works in the background and takes over the creation of data backups automatically.
Encrypted backup to the cloud
Companies and private users are increasingly storing their data in the cloud. To ensure that sensitive information is protected as well as possible, backups can be securely encrypted using the recognized AES encryption standard and a key strength of up to 256 bits.
BackUp Maker supports all popular cloud services including OneDrive, Google Drive, and Dropbox. If users do not want to use the sync apps of the respective providers, they can also upload via FTP/FTPS, WebDAV, or SMB.
Version 8.1 with optional encryption of the Zip file structure
Because the Zip file format only encrypts file contents by default, without elements such as the confidential file names and folder structures, BackUp Maker version 8.1 offers a pioneering and innovative solution that protects this information.
"If you back up data in the cloud, you should make sure that confidential information is inaccessible to strangers. The integrated encryption functionality offers reliable protection here", says Andreas Stroebel, CEO of ASCOMP Software.
BackUp Maker supports all major Windows operating systems in both 32- and 64-bit versions and can be downloaded free of charge for private use on www.backupmaker.com. The paid version (from $39.90) is ad-free and includes technical support.
Source: ASCOMP Software