Empower America is Putting Veterans to Work, Building Our Nation's Solar Power
Through its national coalition it is creating more solar projects and more jobs for vets.
Press Release
-
updated: Nov 14, 2017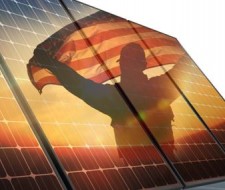 Murrieta, CA, November 14, 2017 (Newswire.com) - Empower America is leading the charge to put America's veterans back to work. With close to 25,000 military service members returning to civilian life each month, they need solid, good paying jobs to provide for themselves and their families. Empower America has organized a coalition of solar leaders to work together to develop more projects and training for veterans. 
"With so many veterans returning home and needing to find employment, we have a duty to help as many as we can connect to jobs in industries that are in need of a skilled workforce," says Mario Pabon, President of Empower America. "Through our highly-skilled team and our key partnerships, we plan to fill these gaps."
The Empower America team is made up of an energetic group of highly experienced developers, engineers, energy integrators, and construction professionals. Their team has years of experience in development, finance, design, and safe installation of solar assets, solar control systems, and energy management technologies.
"Providing opportunities for the trained veteran workforce from Empower America means not only are we getting skilled workers to help build our renewable energy projects, but we are working to build a sustainable future for these veterans and our communities," says Bill Morrow, Vice President of Renewables for JE Dunn Construction."
A recent article in Fortune noted that according to the Commercial Construction Index, 93 percent of contractors are expecting to see equal or greater profit margins in the next year. But many, close to 60 percent of contractors, reported difficulty finding skilled workers in the third quarter of 2017 due to an ongoing skilled labor shortage.
 "Cypress Creek is proud to be a major driver of employment growth in the United States," says Peter Farlekas, EPC President of Cypress Creek Renewables. "Nearly one in 10 solar workers are veterans, putting the solar industry far ahead of the U.S. workforce at large. I've always found that veterans bring a tangible drive and leadership to our company, and we are fortunate to have so many working here at Cypress."
The coalition of solar experts, plan to motivate corporate leaders and elected officials to build more solar power and create more jobs for our veterans. The model is already proving to be effective and could serve as a national job creation model for all industries.  
"The U.S. solar industry has made a commitment to our nation's veterans and we are proud of the work we've done training and securing well-paying jobs for patriots across the country," said Abigail Ross Hopper, president and CEO of the Solar Energy Industries Association (SEIA).
"Our hope is that groups, like Empower America, can help expand these job opportunities and put these highly qualified and committed military veterans to work in well-paying jobs that enable them to continue supporting our nation's security and economic vitality."
To learn more about Empower America's work with veterans and within the solar industry, visit WeEmpowerAmerica.org.
About Empower America
Empower America is a veteran workforce development company, focused on the renewable energy and technology industries. The organization works with industry leaders to help initiate more projects and create more jobs for veterans. To learn more, visit WeEmpowerAmerica.org.
Source: Empower America
Share:
---
Categories: Energy, Construction
Tags: 000 veterans return home every month, 25, construction workforce shortage, Skills gap training
---