Emmy®-Nominated New England Home Makeover Show "Life on Mar's" Arrives on Amazon Prime
Press Release
•
updated: Mar 1, 2017
Reality series nominated for two 2016 Emmy® awards offers national audience up-close look at renovation of a historic home.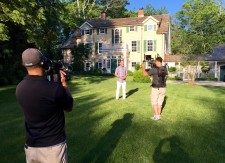 Westport, Connecticut, March 1, 2017 (Newswire.com) - S&J Multimedia LLC and Janson Media announced today that the Emmy®-nominated series "Life on Mar's: The Home Makeover Show" is now available on Amazon Prime's global streaming video service. Created and hosted by Mar Jennings, who is frequently referred to as America's Top Lifestyle Expert, it is the first complete home makeover series filmed in Connecticut. The first season tracks the yearlong renovation and restoration of every room in Green Isle, a historic home in Westport, CT. Episodes follow Jennings' design direction, humor and signature method while highlighting local resources.
Mar Jennings' home and garden design expertise make him unique in the television arena—both as an on-camera personality and real-world, hands-on designer. The series highlights Jennings' own ingenious design guidelines within the renovation. "I'm excited to share my six unique Casual Luxury design principles with a national audience," says Jennings. Each episode features new rooms and outdoor spaces of the home. Viewers become acquainted with the home's history, get to know the homeowners Yvonne and Neil O'Kane (and their three children) and follow off-site trips for inspiration. Episodes include Jennings divulging details of the completed transformations and end with a final reveal. Watch the trailer here.
"I'm excited to share my six unique Casual Luxury design principles with a national audience."

Mar Jennings, Creator & Host
Directed by Emmy®-winning director Christopher Panton, and created by Mar Jennings, the show first aired on ABC's WTNH receiving positive response from viewers and critical acclaim, earning two Emmy® nominations. The series is produced by S&J Multimedia LCC of Westport, CT, and is currently in production on Season 2; focused around a new group of homes, it is set to air this fall.
###
For more information, please call Paul Mitchell at (203) 227-7935 or email paul@marjennings.com
Photo: Mar Jennings on the set of Life on Mar's: The Home Makeover Show
Photo credit: marjennings.com
Video: Trailer for Season 1 of Life on Mar's: The Home Makeover Show
About Mar Jennings
Mar Jennings is known as America's Top Lifestyle Expert and is a three-time Emmy® nominated TV host, Executive Producer and best-selling author. This Westport, CT resident is the author of the LIFE ON MAR'S series, A Four Season Garden and Creating Casual Luxury, acclaimed gardening and design books, both sold worldwide. He is the creator, host and Executive Producer of the two-time Emmy® nominated TV series, Life on Mar's: The Home Makeover Show, currently in production on season two. He is a regular contributor as a lifestyle expert for numerous television programs, networks and magazines, reaching both national and local audiences. A fan-favorite at home and garden shows throughout the country, Mar's infectious energy and envious eye for design leave everyone inspired to try new projects themselves. His 250K+ social media followers—who call themselves MARtians—are addicted to his branded platforms. His YouTube views alone exceed three million.
https://www.facebook.com/MarJenningsOfficial/
https://twitter.com/intent/follow?source=followbutton&screen_name=marjennings
https://www.instagram.com/marjennings/
About Life On Mar's: The Home Makeover Show
Life On Mar's: The Home Makeover Show is a fun, fast-paced new series that highlights the top-to-bottom, inside-and-out, year-long renovation and restoration of a family home that is chock-full of potential. Much more than a decorating show, this series captures everything from demolition and construction to design and decor. Including plenty of behind-the-scenes secrets and helpful 'sMARt Tips'—advice from Jennings on how viewers can apply what they see on the show in their own home. The series debuted on ABC's WTNH. Season two is currently in production, with a Fall 2017 air date expected.
About Amazon Prime
Amazon Video is a premium on-demand entertainment service that offers customers the greatest choice in what to watch, and how to watch it. Prime Video offers thousands of movies and TV shows, including popular licensed content plus critically-acclaimed and award-winning Amazon Original Series and Movies from Amazon Studios like Transparent, The Man in the High Castle, Love & Friendship and kids series Tumble Leaf, available for unlimited streaming as part of an Amazon Prime membership. Prime Video is also now available to customers in more than 200 countries and territories around the globe.
About Janson Media
Established in 1989, Janson Media is an independent media company based in New York, specializing in worldwide digital, television, VOD, DVD/video, non-theatrical, and educational distribution. The company has licensed content to virtually every country in the world, and its clients include major digital video platforms, broadcasters, and home-entertainment companies. Janson Media's digital distribution reaches tens of millions of consumers via its direct content partnerships with such major digital video platforms as Amazon, Netflix, YouTube, iTunes, Hulu, and others. The company is also a syndicator of independently produced programming to public television (PBS) stations across the United States.
Source: S&J Multimedia LLC
Related Media
Tags
Related Files
Additional Links