Emmanuel Ventouris Saves Child From Drowning
Press Release
-
updated: Sep 19, 2017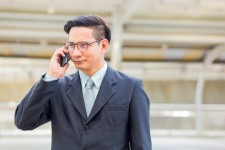 LOS ANGELES, September 19, 2017 (Newswire.com) - Emmanuel Ventouris, a young investor from Los Angeles, saved a little child from drowning yesterday, at Santa Monica Beach.
Last day was not a good day for swimming because it was pretty cold, so you couldn't see many lifeguards around the area. There was a family from Nevada that came with their five years old son to visit LA. Mr. Ventouris happened to walk around the beach zone when this family was taking pictures.
"I just came from a long meeting I had at my office. I usually take a walk at Santa Monica to relieve my stress when I come back from work. I also live close to the beach, so it's a big plus for me. I always lived here. I am a trained swimmer and completed some classes so I could always become a lifeguard. However, swimming was never more than a hobby, and I had to choose a totally different career path. It was around 9 p.m. when I saw a young family not far away from where I was walking. There was a little boy with them, but it seemed like the parents were too focused on taking good pictures instead of taking care of their little kid. Santa Monica can be a really bad place for new swimmers, not to talk about young kids," says Mr. Ventouris.
When asked how the disaster happened, the lifesaver told us:
"Well, if you don't have that much experience with sea shores or beaches, you have to know that the sea will always try to push you back to the shore unless you are further than a given point. The boy seemed to see a seagull in the water and his parents were far away from him, so he approached the sea."
On the other side of the coast, there was Hurricane Irma, but in California, you can experience strong currents that will either push you deeper into the sea or keep you where you are. The little boy had the bad luck to enter the sea when one of these currents hit. I saw it immediately. If you are a child of his age who doesn't have more than three-foot height, it is inevitable but to be pushed deeper into the water. You can't just float back to the beach, even if you would be an adult, you will drown from exhaustion."
Emmanuel Ventouris started to run as soon as he saw the kid entering the sea. His parents started to panic when they saw the man running right in front of them. "They didn't know that their son was about to drown until they saw me running to save him. Luckily, I was there. When I entered the water, I couldn't see the boy, so I had to swim further. After some seconds, I saw him and his gestures were clear: he was drowning, and he barely kept his head above water.
"I didn't even realize I was in my office suit; I didn't even care. I guess that's what they call the fight or flight response. To make things clear, the boy was getting further and further from the shore by each second. I know that I am a good swimmer, so I raced to him, and luckily, I caught him. I carried him on my back to the beach, keeping him above water, he fainted from the lack of oxygen, he already swallowed a lot of water.
"However, the young man made it to the beach safely, and it made me very happy I could save a life."
Source: Web Presence LLC
Share:
---
Categories: Community News, Local News, News
Tags: Emmanuel Ventouris, Emmanuel Ventouris California, Emmanuel Ventouris Los Angeles
---