Elsner's Recent Step Towards E-Commerce AI: Shopping Mentor
Press Release
-
updated: Jul 3, 2017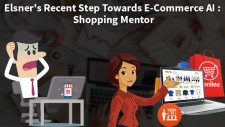 CALIFORNIA, USA, July 3, 2017 (Newswire.com) - Shopping Mentor is a Magento extension created by USA-based Elsner Technologies Pvt. Ltd. This Magento1 extension basically makes shopping easier by asking various questions to buyers according to their choices and shows accurate results so that customers can find the exact products they were looking to buy. Easy, right? Let's move ahead...
How does it work?
First, the tool will get all the detailed requirements of the customer. Once users have entered all the necessary specifications, it will conduct a refined search from the Huge store and bring out the top products which suit their needs. This will not only make shopping faster but also smarter and more time-saving. It will give customers results of products that are appropriate and relevant to them based on their selection. 
For Shoppers:
Attention all shopaholics: As a part of Elsner's Magento eCommerce Development, the Shopping Mentor is here to help out. Users get confused while surfing through the online stores because there are so many choices, so many ranges, and so many varieties of products available in e-stores that users have to keep scrolling and scrolling to find what they want, and still end up not getting it.
Being an e-commerce store owner, it is the duty to provide the finest solutions to the customers. Thinking who will help? Well, no need to worry as Elsner's newest AI solution will guide while shopping online. As the name suggests, Shopping Mentor will be the personal guide while surfing online for products. It will give the refined list of products according to specific needs, budget and other requirements. Being created by the top Magento Development company, this tool will truly enhance the user's shopping experience.
For Store Owners:
This tool developed by Magento eCommerce Development experts is a delight for the Store Owners. Let's face it: Even after having a myriad of products, a good-looking e-store, and a lot of promotional activities, the guarantee of conversion is not there. Any eCommerce store may, or may not get customers. This tool will help to boost up sales and get more customers. Having this tool in the store will make shopping for the customers easy, and they will get habituated to buying from your site.
The Mentor will make them stick to your store, guide them to shop smarter and thus, boost the business's conversion rate. The customer will be guided to the better and fulfilling product. It is not just a simple filter option to apply filters and get results. It is a highly advanced program that is based on Artificial Intelligence technology. The search is guided by the AI tech and is more exclusive than regular filters.
Want to increase one's loyal customer base? Download Elsner's Shopping Mentor Today.
Know More About Elsner Technology
Elsner Technology is a well-known magento development company based in the USA. Elsner is proud to launch the newest magento tool, the Shopping Mentor. The world is taking evolutionary strides in Artificial Intelligence, and the Shopping Mentor is their contribution to it. This tool, created by certified Magento eCommerce experts, is a very useful and resourceful program. Download it and know how this wonderful tool will help Magento eCommerce business in the best way.
Reach Elsner Technology here to get this tool.
Source: Elsner Technology
---
Categories: Computers and Software, E-Commerce and e-Business, Information Technology
Tags: MAgento Development Company, magento extensions, magento marketplace, Shopping Mentor
---