Elmedia Player 8.16 Introduces Revolutionary H.266/VVC Codec Support
Press Release
•
Jul 20, 2023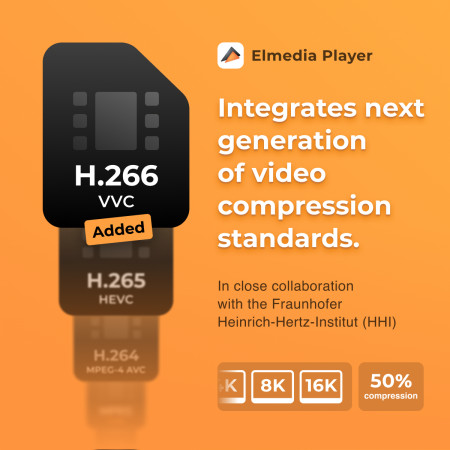 ALEXANDRIA, Va., July 20, 2023 (Newswire.com) - Electronic Team, Inc. announces a significant update to its popular media player, Elmedia Player. From now on, the player becomes one of the first to provide native support for the latest H.266/VVC codec.
In the 8.16 release, the main focus was placed on implementing native support for the H.266/VVC codec. The collaboration with the decoder's developers for the H.266/VVC codec at the Fraunhofer Institute for Telecommunications has allowed the app to be among the first players on the market to offer this level of compatibility and solidified Elmedia Player's position as an innovative media player, ready to offer cutting-edge technology and functionality to its users.
H.266/VVC is a revolutionary achievement in the field of video data compression. It provides a significant reduction in bitrate without loss of quality, resulting in more efficient use of bandwidth and saving space on storage devices. Elmedia Player, with its rich functionality and wide compatibility with various file formats, strives to provide its users with the best multimedia experience.
However, the new H.266/VVC is not the only update that Elmedia Player features. The 8.16 release also includes minor improvements and fixes.
The Electronic Team, Inc. continues to work on the development and improvement of its product in order to meet all the needs of users and provide them with the best video and audio playback experience.
The new version of Elmedia Player with H.266/VVC codec support and other improvements is already available for download. For more detailed information, please visit the website www.elmedia-video-player.com
Source: Electronic Team, Inc.