Elitech Invests in a New Factory to Manufacture Temperature Data Loggers and Other Products
Press Release
-
Sep 20, 2016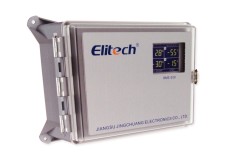 Xuzhou, China, September 20, 2016 (Newswire.com) - Elitech today announced that the company has invested in a new factory to manufacture data loggers for cold chain management. The new factory in China will help Elitech increase production for its growing markets in America and Europe. This will feature Elitech's unique technology and authorized patents.  
"Poor cold management handling process and inadequate equipment are one of the great challenges of our time," said Alice, Elitech Product Manager. "Elitech strives to make all the necessary data loggers accessible to every company in the cold chain management process. We believe this will enable them to realize reasonable ROI as they minimize losses associated with inaccurate acquisition of temperature and humidity data."
In the main Elitech factory in Xuzhou, the 170 professional engineers develop new 30 data loggers every year. So far, Elitech has invested in a number of R&D and it owns 80 authorized patents, 30 of which are software patents in the temperature monitoring industry. 
Elitech temperature data loggers are popularly used in life and science industry such as clinical trials, pharmaceuticals, vaccine transportation, etc. Food industry such as poultry, seafood, dairy and perishable vegetable; have also benefited from Elitech data loggers.
The company's 20 years of data loggers manufacturing experience is evident in their high quality and customizable data logger's production. Whether clients require data loggers for OEM or ODM businesses, the new Elitech factory will guarantee fast turnaround. Elitech aims to double production capacity.
A memo posted on Elitech Log's official website indicated the new factory will first focus on four main categories of products:
1. Singe use temperature data logger
The single use temperature data logger (series RC-55) is one of the main sort for in cold management process. It is manufactured from food grade material that conforms to both EN 12830 and IP67 standards.
2. Multi-use temperature and humidity data logger
Elitech multi-use temperature and humidity data logger (series RC-61) features a multi-function LCD, audible and visual alarm system and ability to export data in PDF/Excel format.
3. Temperature recorders for trucks
This temperature recorder for trucks (series RMS - 010) has a single key press, allowing for start/stop/print/copy functionalities. It is an advanced data logger system with a modular design and the ability to detect when the refrigerator compartment is open during transportation.
4. Wi-Fi Temperature data loggers
Wi-Fi temperature data loggers (series RCW - 600 Wi-Fi/800) allows for wireless communication and real-time uploading of data to the Elitech cloud system. Users can conveniently access, track and monitor the cold management process remotely.
Elitech will also begin to manufacture additional series of their data loggers within the next six months. Elitech new factory to manufacture data loggers is a fully equipped facility with its R&D and quality testing laboratories.
About Elitech
Since 1996, Elitech has been dedicated to R&D and manufacturing of products for freezing and refrigeration industry. The company provides remote cold chain solutions - both temperature and humidity data loggers with eight business units both in China and overseas.
Elitech owns 80 authorized patents and 30 software patents. The company has passed the ISO9001:2008, ISO14001:2004, TS16949:2009 and OHSAS18001:2011 certification standards.
For more information:
Contact:
Or call:
0086-516-8630-6066 - Central Office
Source: http://www.elitechlog.com/about-us/
Share:
---
Categories: High Technology, Environmental, Shipping
Tags: Elitech, temperature data logger manufacturer, temperature monitoring
---