Elite Transportation Services Announces Exclusive Partnership With Leading Autonomous Vehicle Company
Press Release
•
updated: Feb 21, 2018
ETS to provide operational support and financing for autonomous vehicle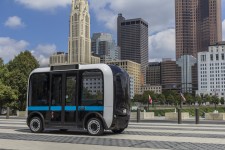 JACKSONVILLE, Fla., February 21, 2018 (Newswire.com) - Florida-based Elite Transportation Services is expanding into the autonomous vehicle industry by becoming the exclusive provider of operational support for Olli, an autonomous self-driving shuttle developed and owned by Local Motors of Arizona.
"From airports to university campuses, a vehicle like Olli transforms the way we think about mass transportation," said Dane Grey, CEO of Elite Transportation Services. "We are excited to partner with Local Motors to offer our expertise in transportation support and technology, making it easier for organizations to own and operate a fleet of autonomous shuttles."
From airports to university campuses, a vehicle like Olli transforms the way we think about mass transportation.

Dane Grey, CEO, Elite Transporation Services
Local Motors developed Olli in 2016 as a self-driving shuttle designed for sites using low-speed mass transit, such as airports, campuses, hospitals and municipalities. The shuttle – operated by ETS – has a maximum speed of 25 mph and includes speech recognition capabilities that allow the vehicle to talk to passengers.
In its partnership with Local Motors, ETS provides an all-inclusive fleet management support package for Olli customers, including routine maintenance, warranty service, insurance, monitoring and management of the shuttle.
"We continuously strive to provide our customers with options, systems and technologies to enhance their deployment(s)," says Brittany Stotler, vice president of marketing for Local Motors. "This is why we are proud to partner with industry-leading companies such as Elite Transportation Services, enabling us to offer unprecedented finance options for operational support to Olli customers."
About Elite Transportation Services
Elite Transportation Services, a subsidiary of Elite Parking Services of America, specializes in transportation and parking management services for municipalities, downtown urban markets, airports and hospitals across the United States. Founded in 2010 by CEO and President Dane Grey, ETS is known for its focus on innovation in parking and transportation services, promoting a partnership model that focuses on the customer. To learn more, visit eliteparkingofamerica.com.
About Local Motors
Local Motors is a ground mobility company focused on shaping the future for the better. Founded in 2007 with a belief in open collaboration and co-creation, Local Motors began low volume vehicle manufacturing of open-source designs using multiple micro-factories. In 2009, Local Motors launched the world's first co-created vehicle, The Rally Fighter. Since then, Local Motors has debuted Strati, the world's first 3D-printed car in 2014, and the world's first self-driving, cognitive, electric vehicle, Olli. Local Motors believes that Olli is the answer to a sustainable, affordable, accessible transportation solution for all.
Media Contact
Chad McLeod, APR
813-438-6657
chad@mcleodcommunications.com
Source: Elite Transportation Services
Additional Links