Eliant's VP of Innovation Honored With Prestigious 'Forty Under 40' Award
Press Release
•
Apr 19, 2022
Eric Mitchell nationally recognized among 40 rising stars in the home building industry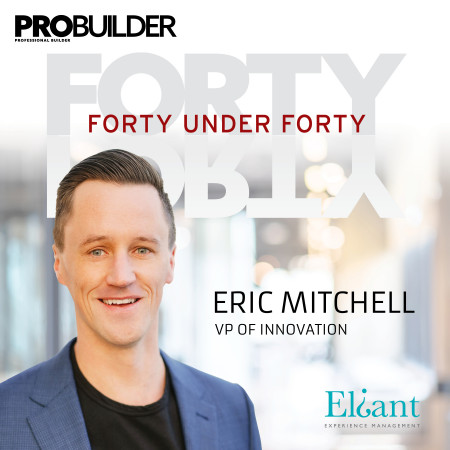 ALISO VIEJO, Calif., April 19, 2022 (Newswire.com) - Pro Builder, the official publication of the National Association of Home Builders (NAHB) and the leading business magazine for the U.S. housing industry, has honored Eric Mitchell, Vice President of Innovation at Eliant, with its prestigious "Forty Under 40" Award. The publication's "Forty Under 40 Class of 2022" is an exclusive spotlight of young professionals within the home building industry — rising stars who are recognized for their leadership, innovation, creative problem-solving, professional achievements, and more.
"Eric's unusual combination of technology and business savvy has earned him the tremendous admiration and respect of his team members and clients," said Bob Mirman, CEO of Eliant. "This young man has a powerful vision of how technology can advance the ease and speed of consumer home purchasing."
Nine years ago, Mitchell began his career at Eliant as a software developer, quickly growing to Director of Information Technology and later advancing to his current position as Vice President of Innovation. Among his many impactful contributions at Eliant is the development of TradeSTAR, a unique offering of cross-evaluations among homebuilder departments and the builders' tradespeople. With builders' trades rated in reverse, partnerships are now strengthened in both directions. "TradeSTAR has become a game-changer for many private and public home builders, and for the thousands of trades being rated by builders' superintendents, purchasing agents and customer service representatives," said Fernanda Luick, President of Eliant. "Eric's innovative thinking has rendered TradeSTAR an invaluable tool that has become one of Eliant's most successful services to the home building industry."
Convinced that one of the most expedient ways to positively impact the homebuying experience is to share homebuyers' feedback and suggestions directly with field representatives, Mitchell led the way in developing Eliant's 2022 Field App — an on-the-go reporting and accountability tool accessible by every superintendent, sales agent, design consultant and customer service representative.
To reach diverse homebuyers more effectively, Mitchell guided the implementation of multilingual evaluations, spanning more than 20 languages. He also played a major role in Eliant's recent growth into international markets.
"Eric is an extremely gifted technology innovator who is simultaneously enamored by the sales and marketing aspect of the new home process," said Mirman.
Mitchell holds a Bachelor of Science in Business Administration, Management of Information Systems from California State University, San Marcos. Off the clock, he is a private pilot, surfer, self-taught musician, linguaphile, ordained minister and Toastmaster, often found attending arts and music shows throughout the country.
About Eliant
Established in 1984 as the original homebuyer survey company, Eliant has evolved into a full-service experience management partner to the home building industry. Powered by superior assessments and best-in-class technology, Eliant offers homebuilders, trades, lenders, escrow officers and consumers reliable answers to their most critical home building and home buying questions.
Source: Eliant