Electric Transport Leader to Speak at LA CoMotion
Press Release
-
updated: Nov 14, 2017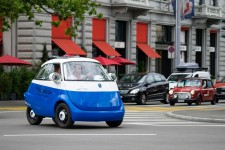 Los Angeles, California, November 14, 2017 (Newswire.com) - Founder of Swiss company Micro-Mobility, creator of the Razor scooter, the emicro electric scooter and most recently the Microlino, Wim Ouboter, will speak at LA CoMotion, the global urban transport conference in LA's Arts District Nov 15-19. Wim will speak about the personal transport options Micro is focusing on to help solve the first/last mile problem, with the goal of providing sustainable transport options.
Mr. Ouboter's Micro brand has elevated the humble scooter into a reliable form of transport using quality materials and Swiss design. He makes the point that Micro's electric scooter, the emicro, is personal transport that puts the rider fully in control of their commute. No parking, no locking, no passwords - this is transport you carry with you. 
His latest innovation is the Microlino, an EV that is based on the Italian-designed Isetta from the mid 1950s, produced by BMW. 
The Microlino is Micro's first EV (it's not a car!!) and will be ready for sale in Spring 2018. The Microlino electric vehicle will go 60 mph. 
Wim's vision for the Microlino is that it will find traction among those who want an electric vehicle that is affordable, environmentally clean, quiet, can park (sideways!) in the leftover space between parking spots and offers just enough room for a driver, a passenger, their luggage or shopping bags. And, who doesn't want a vehicle that you enter via the hood? 
Wim Outboter had already earned an MBA from Zurich Business School, worked as a Swiss banker, studied International Business at Boston College and built a textile factory in South Carolina, when, in his early 30s, he recognized there was a need for a new type of mobility - one that would be efficient for traveling a 'micro' distance, which he defined as 'too far to walk and too short to drive'. He likes to say that his vision was born of laziness, but whatever the motivation, the terms 'Micro distance' and 'Mobility', now in common use when discussing urban transport, were already in Wim Ouboter's vocabulary in 1999 when he founded and named his Swiss company Micro-Mobility.
As Wim set to work producing prototypes of re-tooled scooters from his youth, he introduced several careful improvements: he made the scooters easily foldable; changed the wheels to smooth-gliding polyurethane, minimalized the design and upgraded the materials used. Finally, in 1999 he was ready to  introduce the first Micro scooter and kickboard to the European market. Shortly thereafter they were introduced in the US, under the names Razor, K2 and Huffy.
Wim continued to improve the level of quality involved in the design and construction of Micro scooters, which ultimately served to elevate his scooters from toys to transport - an important distinction that still separates the Micro brand from mass-market scooters today. 
Micro is well-loved and respected in 80 countries around the world and the recipient of numerous design awards globally. Micro scooters and kickboards are seen regularly in the celebrity press ridden by celebs and their kids and is the go-to brand for quality boards at every age. 
Since Micro is a company that offers mobility for the whole family, it isn't surprising that Micro is a family company. Wim is CEO and his wife Janine, who has always played an important role in building the company, is the CFO. Their sons Oliver and Merlin started young as products testers but are now both in their 20s and very involved in several of Micro's most important projects.
Wim's greatest passion is for Micro to continue as an innovator in the mobility revolution. The company's most recent innovations include the Micro Luggage scootcase, the Pedalflow (a folding bike without a seat) and the e-micro electric scooter, with 4 new styles arriving January. For anyone who doesn't love their commute 100%, these might just rock your world.
Wim will speak at 12 noon Saturday Nov 18th.
Media Contact:
Jamie Rau
(616) 242-0044
marketing@microkickboard.com
Source: Micro Kickboard
---
Categories: Transportation, Travel, Family Travel, Travel and Transportation, Personal Travel, Travel, Transportation, and Hospitality News
Tags: commuter, electric scooter, family, kick scooter, mobility, scooting, travel
---