Educational Psycologist Creates German-Inspired Toy Collection
Press Release
•
Jun 27, 2016
Dani Koepke, Educational Psychologist and owner of Daniela Koepke, an educational toy company with an emphasis on imagination development, launches the Fairy Tale Collection.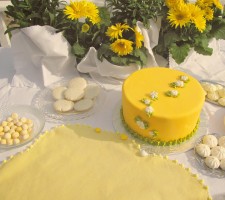 Waterloo, Ontario, June 27, 2016 (Newswire.com) - The Fairy Tale Collection will include The Emma and Prince Charming Felt Boards, Frosted Pink Dessert, Blue Cake, and Lemon Pudding Felt Story Boards; and The Arabella, Henry, Elodie, and Charlotte Felt Story Characters featuring familiar felt animal friends in an enchanted forest, as well as "Old Macdonald Had a Farm" and "Little Red Riding Hood" children stories – all designed for childhood cognitive and physical development, emphasizing imagination development.
The Fairy Tale Collection.
As an Educational Psychologist with children of her own, Koepke saw there was a gap in the market for naturally made, educational toys created with the same quality materials and craftsmanship as the old German toys she grew up with. In the same fold as Waldorf-style toys, Koepke creates felt storyboards and characters that help children strengthen the key areas of development: Cognitive Development, Social and Emotional Development, Speech and Language Development, Fine and Gross Motor Skill Development, and Imagination Development.
"Inspired by a trip to Europe and the Scandinavian toys we discovered there, I did the research and began making children's toys myself. With as much love in my heart as I was capable I began the journey of Daniela Koepke to ensure my own children grew up with toys that focused on the right kind of development and were free of Lead, BPA, PVC, Mercury, Phthalates, and other toxins. Now, I'd like to share that passion with you."
Dani Koepke | Educational Psychologist/Creator
To learn more about Daniela Koepke and to view The Fairy Tale Collection of educational children's toys visit www.danielakoepke.com, or www.etsy.com/shop/DanielaKoepke on Etsy. Subscribe at http://eepurl.com/bV84Pn to receive discount codes, the latest in product release information, and insights into Educational Psychology and the importance of imagination development.
Daniela Koepke, The Fairy Tale Collection - Playfully-perfect natural toys for the best play ideas.
Notes to editors
Media contact Daniela Koepke at (226) 243-0976 or daniekoepke@gmail.com for interviews, samples, or additional photos.
Source: Daniela Koepke