Education Ecosystem to Release Android App and Dedicated Git Pages for Streamlined Project Source Code Sharing
Press Release
•
Jul 25, 2023
Education Ecosystem Announces Android App and Dedicated Git Pages for Streamlined Learning and Collaborative Code Sharing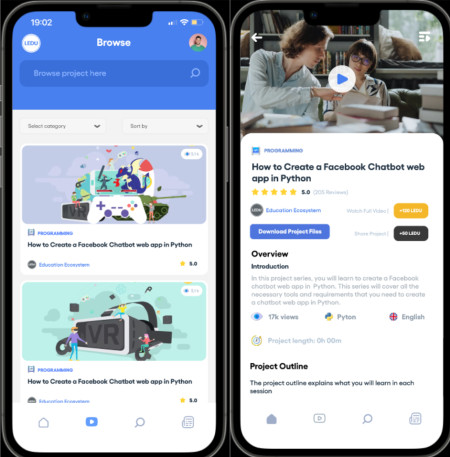 LONDON, England, July 25, 2023 (Newswire.com) - Education Ecosystem, a leading platform for project-based learning, is thrilled to announce the imminent launch of its Android app. Building on the success of the Education Ecosystem 3.0 web app launched in February, this Android app aims to further enhance learning by providing convenient access to a diverse array of project tutorials at your fingertips.
Introducing the Education Ecosystem Android App
The Education Ecosystem mobile app represents its commitment to accessible and interactive education. With this app, learners worldwide will have the ability to access an extensive library of project tutorials anytime, anywhere, with just a few taps on their mobile devices. Here are some of the key features and benefits.
Key Features and Benefits
Enhanced Learning Flexibility: The Education Ecosystem Android app provides unparalleled convenience, allowing learners to fit education into their busy schedules and learn at their own pace. Whether on a bustling commute, during a coffee break, or in the comfort of their homes, learners can now immerse themselves in a world of learning with a single tap.
Dapps Rewards Dashboard: Users can track their earned LEDU rewards for participating in activities, encouraging active engagement. The rewards dashboard incentivizes learners to complete projects, tutorials, and interactive tasks on the platform.
Social Sharing: Viewers can easily share projects and videos, promoting collaboration and knowledge exchange within the community. Learners can spread their insights and discoveries, fostering a culture of learning and exploration.
Sleek and Intuitive Design: The app boasts a user-friendly interface designed to provide an engaging and immersive learning experience. With a modern and intuitive design, learners can navigate through content effortlessly.
Introducing Dedicated Git Pages for Streamlined Project Source Code Sharing
In line with Education Ecosystem's commitment to fostering collaboration, it is also thrilled to introduce Dedicated Git Pages—an innovative addition that enhances the learning and collaboration experience for students and creators.
Benefits
Enhanced Collaboration: Dedicated Git Pages foster a collaborative environment, allowing developers and contributors to seamlessly collaborate on code, propose changes, and provide feedback.
Transparent Open-Source Community: By hosting project resources on Dedicated Git Pages, Education Ecosystem promotes transparency and openness, and encourages contributions from the open-source community.
Streamlined Access: Interested individuals can access the project's source code and related materials directly from the dedicated page, simplifying the process of sharing and exploring projects.
The Education Ecosystem Android app and Dedicated Git Pages signify our commitment to creating an engaging and collaborative learning environment. We firmly believe that open collaboration and shared knowledge drive accelerated growth and innovation. For more information about Education Ecosystem and its upcoming releases, please visit Education Ecosystem.
Source: Education Ecosystem