Ednetics Creates Safer Environments in Schools and Public Sector, Named Pacific Northwest Partner of the Year
Press Release
•
Apr 26, 2023
Ednetics earned the award based on achievements and innovation in their markets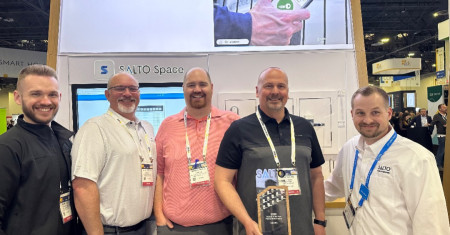 POST FALLS, Idaho, April 26, 2023 (Newswire.com) - Ednetics' relentless commitment to providing innovative and effective technology solutions has earned the Pacific Northwest Partner of the Year award from Salto Systems, a leading global manufacturer of electronic access control and operating systems. This recognition not only affirms Ednetics' dedication to customer success, but also highlights the impact of their partnership with Salto in creating safer environments for students, teachers, and the public sector.
The Partner of the Year Awards program recognizes partners that have demonstrated a strong track record to providing excellent customer service, the ability to drive innovative business solutions, and achievements within the public sector market. Ednetics was selected based on their market outcomes.
"It was an honor to be recognized by Salto as Partner of the Year," said Dave Teague, Business Director of Ednetics Protect. "We strive to go above and beyond for our customers by delivering meaningful solutions that empower students and teachers by improving campus security."
Dave further commented on the recognition by stating, "At the end of the day, our goal is creating safer environments that help contribute to quality education. Receiving this award from Salto reinforces our commitment to meeting the unique security challenges our customers face every day."
###
Ednetics provides advanced technology solutions to education and public sector communities across the western United States, with a focus on improving environments through innovative networks, communication, physical security, data, and facilities architectures. Our team is passionate about creating safer, more connected, and inspiring environments that enable customers to achieve success in their missions. We're committed to delivering essential solutions that empower our customers and make a positive impact in their communities. To learn more about how we can transform your environment, visit us at https://www.ednetics.com.
Source: Ednetics