Edmission Launches Low-Cost, Tech-Enabled College Admissions Evaluation Services
Press Release
-
Oct 13, 2016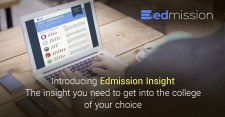 SAN RAMON, CALIF., October 13, 2016 (Newswire.com) - Today, Edmission (www.edmission.us) announces the launch of Edmission Insight, a low-cost, tech-enabled college admissions evaluation service. Edmission, founded in January 2016, is a web application that offers affordable, high quality, and personalized college admission advice to high school students.
For $99, students can have their college admission profiles evaluated against the criteria of their preferred colleges. Students will receive results within 72 hours, including in-depth, personalized recommendations in categories, like academic performance, standardized test scores, and extracurricular activities. The result is intended to provide an opportunity for the students to gain insights into their admission profiles so they can highlight their strengths and identify ways to improve their admission chances. 
As high school students and parents are busy planning for the college admissions, Edmission's new service is particularly timely.
The launch of the evaluation service comes on the heels of the release of Edmission's first product in September – a web application that allows students to build admission profiles, set college goals, get notifications for key dates and milestones and receive personalized recommendations, without the fees of private college counseling.
"We believe every student deserves the help they need to get into college. Our mission is to empower students to achieve the goals by guiding them through the college planning and admissions process," said Angela Choy, cofounder and CEO of Edmission.
According to the National Association for College Admission Counseling's annual state of college admission report, more than 9.3 million college applications were submitted in the 2014 – 2015 academic year. As the college admissions process grows more competitive, many expect the number to continue to rise. Meanwhile, public high school students are lacking the college planning resources they need, and the average ratio in public high schools is one counselor for 470 students with each student receiving only an average of 38 minutes of college advising per year. 
"Many of these students and parents are unable to afford private college counseling, and we believe that all students should have an equal opportunity to succeed, regardless of their socioeconomic background. That is why we offer our products at a price point that is truly affordable - so more students can benefit from solid, professional advice for gaining acceptance into the university of their choice," Choy added. 
The company is currently running a referral campaign that gives out rewards including free college admission evaluation packages to those who refer their friends to Edmission. Visit the Edmission Referral page for more details.
About Edmission
Edmission is an education technology company with a mission to create a better way to plan for college. We empower students and parents to get high quality, personalized, and affordable college admission advice through technology. For more information, please visit www.edmission.us or follow us on Facebook, Twitter, and Instagram.
Source: Edmission, Inc.
Share:
---
Categories: Educational News, Educational Technology, Colleges and Universities, Public Education, Online Training and Educational Solutions, Education
Tags: admission evaluation, admission planning, college admission, college planning, edmission, edmission insight, edtech, education, education technology, high school students, startup, technology
---