EDM Launches Expansive Line of Radiation Protection Products
Press Release
•
updated: Sep 24, 2020
New radiation protection line includes aprons, glasses, and accessories to protect staff and patients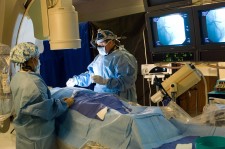 MIAMI, September 24, 2020 (Newswire.com) - EDM Medical Solutions today launched its line of radiation protection products focused on minimizing the effects of x-ray exposure in medical settings. The new product line includes a range of aprons, eye protection, and accessories all aimed at protecting medical staff during procedures involving radiation. The company's unique focus on medical imaging and clinical areas such as interventional radiology motivated the creation of a line of radiation protection products that was user-centric and cost-efficient.
The effects of radiation exposure have been well-documented by the medical community. Understanding that adequate protection is a top priority, EDM's products provide a variety of core materials and lead equivalence levels that have been designed to reduce the risks associated with x-ray exposure, namely the heightened risk of developing various types of cancer as well as skins burns and gametic mutations. The eye area alone faces a plethora of risks if left inadequately protected, such as damage to the conjunctiva, sclera, and iris.
"EDM has always been at the forefront when it comes to healthcare safety. Historically, our core business was focused on infection control, especially for medical imaging," says Benjamin El Koubi, operations and marketing manager at EDM. "The recent evolution towards the interventional use of imaging technologies led us to consider another important hazard in the industry: radiation exposure."
When formulating the product line, the company sought to prioritize three aspects: protection, comfort, and durability. The collection offers a mix of materials, features, and sizes which complement the diverse needs of healthcare facilities.
"In an interventional radiology setting, the medical staff is exposed to high levels of x-ray that accumulate over the span of a career. EDM now offers a product line that complements our existing collection of infection control supplies. We know it will serve to enhance staff and patient safety," adds El Koubi.
User comfort was a top concern when developing the line. The company's aprons include user-centric designs, such as the back-relief apron and surgical drop apron, which have been made to increase comfort and usability.
"[Our aprons] are made in the USA and offer a high degree of customization [with] more than 100 colors. We offer five types of materials – a great plus considering that most manufacturers only offer two to three," says Blandine Rolea-Mochi, product manager at EDM.
Each product in the radiation protection line has been tested for quality control and are highly durable items when maintained properly. Providing a durable product not only increases the lifetime of the apron or accessory but also reduces costs for the facility.
Visit edm-us.com/radiation-protection.
About EDM Medical Solutions: EDM is a leader in the medical imaging sector on an international scale. EDM wages excellence through its high-quality products and customer-centric commitment. Learn more about our solutions for medical imaging at edm-us.com.
Source: EDM Medical Solutions
Additional Links