EcoZapp A/C Efficiency Offers Solutions to Clean Up Indoor Air, Reduce Allergies & Respiratory Problems
In the aftermath of Hurricane Harvey's impact in the Houston-area, EcoZapp A/C improves air quality for homeowners
Press Release
-
updated: Mar 6, 2018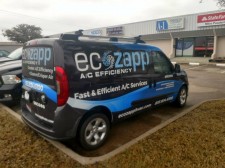 COLLEGE STATION, Texas, March 6, 2018 (Newswire.com) - Seasonal allergies cause problems for thousands of Texans each year, usually several times a year, and it's only expected to get worse. According to the Baylor College of Medicine, allergies and mold problems are likely to be more severe in the next few years. That's because Hurricane Harvey brought moisture into homes and caused enormous amounts of trash and debris that became breeding grounds for mold, waste, pollen, and even new weeds and plants that were not previously common in the area.
Even if someone wasn't an allergy sufferer before, Baylor allergy experts say that they may be more likely to be an allergy sufferer now that Harvey has hit, due to the increase in a variety of irritants to the sinuses, lungs, and skin. Though many of the allergens are outdoors in the soil and air, there is also a huge potential for indoor allergens, especially if a home or the immediate area around it was flooded.
Mold can be very toxic when present in homes and buildings. It releases spores that are carried throughout houses via air ducts, irritating one's lungs as they breathe and even causing serious medical issues in some people. It's crucial to ensure the quality and purity of indoor air, especially if someone suffers from allergies, asthma, and other health problems or if they live with immunocompromised people such as children or elderly people. Thankfully, there are many solutions available to improve indoor air quality.
EcoZapp A/C Efficiency is a full-service heating and air conditioning company that offers expert installation, maintenance, and reliable service. But they don't stop at keeping homes in College Station at a comfortable temperature. In addition to providing and servicing the equipment used to heat and cool homes and buildings, EcoZapp is committed to helping homeowners and businesses improve indoor air quality. 
Using products like Media Filters, Reme Halos, and UV coil sanitizers can greatly reduce not only allergies and airborne mold, but also germs and odors. Media filters are an efficient, easy, and affordable way to remove a high percentage of airborne pollutants in the home. They collect both small and large particles as the air cycles through, stopping dust, bacteria, dander, pollen, and other pollutants in their tracks. The Reme Halo is a high-tech air sanitizer that battles particulates, microbes, and gases. It is tested and proven to neutralize mold and spores after water damage, and it can also reduce the risk of viruses and bacteria in the home. UV coil sanitizers use an ultraviolet light to control mold and bacteria while also reducing smells and odors in HVAC systems, keeping ductwork cleaner and making the heating and cooling systems more efficient while also improving air quality. 
"Being an entrepreneur and building a business which serves a multitude of different demographics means solving problems and finding products and services to help improve indoor air quality for homeowners solves many problems from bad odors to improving respiratory issues. If someone lives with a pet which sheds it makes too much sense and is too affordable to not invest in."- Joshua Zapalac, Founder of EcoZapp
EcoZapp A/C Efficiency will be donating some of these air quality products and services to nonprofit organizations in both the area surrounding College Station and Houston. The goal is to benefit some nonprofits who have been affected by the flood, especially those who cannot afford these services on their own. If one knows of a nonprofit that would benefit from this, contact EcoZapp A/C Efficiency.
EcoZapp had their pest control operation acquired at the end of 2017, which gave the millennial entrepreneurs the investment to start a company focused on "evolving the A/C industry" which means bringing new efficiency and air purification services to the area as well as improving the heating and air conditioning service business. The company is now dialing in on its primary area of expertise: making homes and businesses healthier and more comfortable for their occupants by providing eco-friendly and efficient heating, cooling, and air quality solutions. "Throughout 2018, we hope to help as many homeowners as we possibly can. We want to spread the word about the importance of indoor air quality and to help as many allergy sufferers as possible." 
To learn more about EcoZapp A/C Efficiency and its services throughout College Station, Bryan, and the surrounding areas, visit www.ecozapphvac.com.
Contact:
EcoZapp A/C Efficiency
3900 State Hwy 6 South
College Station, Texas 77845
P. 833-924-6100
W: www.ecozapphvac.com
Source: EcoZapp A/C Efficiency
---
Categories: Air Conditioning, Heating, Refrigeration. Ventilation, and Plumb
Tags: Air Conditioning, allergies, College Station, Heating, Houston, Indoor Air Quality, mold
---