EcoZapp A/C Efficiency Named to the 14th Annual AGGIE 100 List of Fastest Growing Companies for Second Year in the Row
Millennial Entrepreneurs focused on Helping Homeowners & Business owners with Older A/C Systems
Press Release
-
updated: Nov 26, 2018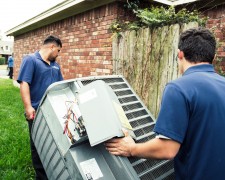 COLLEGE STATION, Texas, November 26, 2018 (Newswire.com) - EcoZapp A/C Efficiency of College Station is among the top 100 companies from around the world selected for the 14th annual Aggie 100 list of the fastest-growing companies owned and operated by former students of Texas A&M University.
EcoZapp was recognized as number 60 with a compound annual growth rate of over 37%. Last year, this organization placed 22nd with 57% growth. The Aggie 100 is founded and sponsored by Mays Business School's McFerrin Center for Entrepreneurship at Texas A&M University. http://www.aggie100.com
EcoZapp A/C Efficiency is a unique company which has directed its focus on scaling its A/C Service to help address the needs of older Air Conditions and Heating systems before Jan 1, 2020, as the EPA phases out the use of R-22 needed to run older systems.   
EcoZapp thinks it is time for the A/C Industry to Evolve – to achieve this they are building a team with a culture focused on both growth and excellence.
According to owner and founder, Joshua Zapalac, "Earning this yearly growth award is to be expected by our young team. It's an opportunity to set a solid goal and hit the targets needed to achieve it. The Aggie 100 was one of my first goals as a student start-up, and now we're going work to see if we can win 12 of these straight!"
EcoZapp is planning on expanding to service most of Texas within the next three-to-five years to fulfill the growing demands of the overall home services industry. Zapalac is confident his team focused on scaling an Air Conditioning and Heating Service can achieve consecutive Aggie 100 awards for a many years to come, saying it'll "Indicate success to some degree in a business environment where it's difficult to build a culture which can be flexible yet maintain focus as a team." Already servicing the College Station and Greater Houston Region, Zapalac quickly sketched out plans to link Dallas/Fort Worth and San Antonio to Austin into their expansions.
EcoZapp A/C Efficiency is one of the original businesses from Startup Aggieland in College Station. Joshua Zapalac was also named the Young Entrepreneur of the Year 2018 for the Houston Region by the SBA. He credits part of his success to the recent developments of EcoZapp in becoming involved in the local Bryan/ College Station's growing Chapter of the Entrepreneur's Organization and is excited about College Station's potential for becoming a hotbed for Millennial Entrepreneurs, several of which made the local list.
The 100 Aggie-owned companies with the highest compound annual revenue growth from 2015 to 2017 were recognized at a formal celebration at the Hall of Champions at Texas A&M University's Kyle Field on Friday, Nov. 9, 2018. The honorees were joined in celebration by family, friends, employees, faculty, administrators, current students, and fellow entrepreneurs.
"We are extremely proud of the 14th class of the Aggie 100. We continue to be amazed at the drive and determination of these Aggie entrepreneurs. They embody all that Texas A&M represents," Stated Dr. Richard H. Lester, Executive Director of the Mays Business School's McFerrin Center for Entrepreneurship. "The McFerrin Center has numerous programs to support the entrepreneurial endeavors of students but being part of this exemplary group is the pinnacle. Every young Aggie entrepreneur aspires to be a part of the Aggie 100. Congratulations to all for a job well done!"
A complete Aggie 100 list can be viewed at www.aggie100.com.
EcoZapp A/C Efficiency
833.924.6100
Source: EcoZapp A/C Efficiency
Share:
---
Categories: Entrepreneurship
Tags: Air Conditioning, College Station, Entrepreneur, Houston, HVAC, Small business
---