Ecosystem Renewal, the Earth Partners, WRA, CIM Successfully Partner on Texas Mitigation Banks
Press Release
•
updated: Aug 16, 2017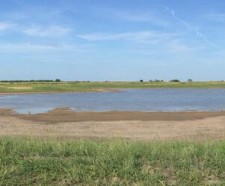 Harris County, Texas, August 16, 2017 (Newswire.com) - Over the past year, Ecosystem Renewal (ER) and The Earth Partners (TEP) have successfully partnered to develop large-scale wetland mitigation solutions for the rapidly growing greater Houston area. They permitted and constructed one of the largest wetland banks in Texas slated to provide over 5,000 freshwater and tidal wetland credits over the next decade. WRA, Inc. (WRA) and Conservation Investment Management (CIM) were key advisors in the origination and development of the strategic alliance, supporting technical and market due diligence.
The Gulf Coastal Plains Mitigation Bank is the first operational mitigation bank of the ER and TEP partnership, with 13 phases covering 1,800 acres of freshwater emergent and tidal wetlands. This bank will provide critical habitat to waterfowl and other aquatic species. Gulf Coastal Plain's phase 1 construction was completed in March 2017, in less than six months, releasing 150 freshwater and tidal wetland credits for mitigation offsets in watersheds south and east of Houston. ER has already developed a robust credit sales pipeline, supporting efficient infrastructure permitting in the Gulf Coast region.
Their next project, Spindletop Bayou Mitigation Bank, is expected to be operational by the end of the year. Spindletop will restore over 400 acres of bottomland hardwood and hardwood flatwood forested wetlands, improving fish and wildlife habitat along with local water quality. It is expected to generate 40,000 stream credits and 733 wetland credits in 6 watersheds east of Galveston Bay.
"The Earth Partners is thrilled with the success of our strategic alliance with Ecosystem Renewal. We look forward to continue working with the Ecosystem Renewal team and building our portfolio in the greater Houston region with their proven track record in successfully designing and operating banks in the Gulf region," said David Tepper, CEO at The Earth Partners.
"The Earth Partners and Ecosystem Renewal working together is the combination of an experienced, established regional operator and a sophisticated management team bringing reliable capital. It is a great example of a winning strategy in the mitigation banking investment space that benefits the environment, public agencies and project developers who need mitigation," said Ben Guillon, CEO of Conservation Investment Management.
"After more than a decade of operating independently in the mitigation banking space, EcoSystem Renewal has formed a strategic relationship with The Earth Partners through our jointly owned company, Mitigation Holdings, LLC, to grow and develop Houston area assets. Ecosystem Renewal's decade of mitigation banking experience combined with The Earth Partners' institutional capital access will leverage our success in this space," said Danny Moran, Ecosystem Renewal's Managing Director.
Press Contact:
Ben Guillon
​WRA, Inc.
​guillon@wra-ca.com
Company Profiles
Ecosystem Renewal, LLC is an integrated company that develops, implements, and manages ecosystem restoration projects using a synergistic approach from multiple disciplines. ER's projects are focused on providing compensatory wetland, water quality or endangered species habitat mitigation required by federal, state, or local regulations for impacts from development and infrastructure growth. Extensive biological, engineering, and project management experience allows our restoration teams to assess, engineer, permit and construct large scale ecosystem restoration projects efficiently and effectively. http://www.ecosystemrenewal.com
WRA, Inc. offers professional consulting services in plant, wildlife, and wetland ecology, regulatory compliance, mitigation banking, conservation finance, environmental planning, GIS, and landscape architecture. WRA is a leader in wetland mitigation and species conservation banking in the western U.S. The company's unique blend of multi-disciplinary professionals supports clients with the right expertise to fully capture their land's ecosystem services value. www.wra-ca.com
Conservation Investment Management is an investment advisory company focused on conservation finance based in Denver. CIM works with landowners, foundations, family offices, and endowments to craft and implement innovative real asset investment strategies that result in both profits and positive environmental impacts. CIM's team is composed of financial analysts and of technical specialists that have extensive knowledge of these new markets such as mitigation and conservation banking, water or carbon. www.conservationinvestment.com
The Earth Partners, LP is a rapidly growing business dedicated to identifying private sector solutions to land restoration challenges. The TEP team manages and operates complex assets and projects, designs and implements symbiotic policy initiatives, and reduces investor risk to allow for large-scale capital deployment in key markets. TEP's business divisions include Mitigation Capital, a quickly expanding real assets division of the company that acquires and develops land for conservation and mitigation, and Bioeconomy Capital, focused on sustainably produced wood and native grass derived products for markets like bio-heating, animal bedding, absorbents, packaging, and soil amendments. www.theearthpartners.com
Source: WRA, Inc. on behalf of Ecosystem Renewal, LLC and The Earth Partners, LP