ecoSPEARS Selected by Exelon Foundation for Climate Change Initiative
Press Release
•
updated: Jul 8, 2021
The Exelon Foundation has invested in nine startups to help reduce greenhouse gas emissions and mitigate climate change, including ecoSPEARS, a cleantech company with NASA clean water technology based in Altamonte Springs, Florida.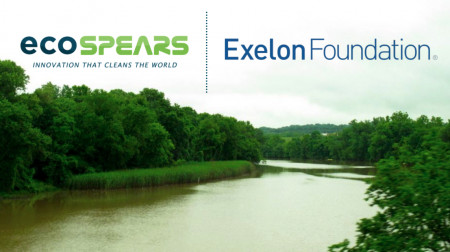 ALTAMONTE SPRINGS, Fla., July 8, 2021 (Newswire.com) - Per an EPA study, 94% of fish tissue sampled from U.S. waterways contained Polychlorinated Biphenyls (PCBs) and other toxic chemicals. ecoSPEARS is a cleantech company with the exclusive license to NASA-developed environmental remediation technologies that permanently eliminate PCBs and other persistent toxins from sediment, soil, and water. ecoSPEARS removes the need to transport contaminated media to a landfill or incinerator, both destructive methods to the environment and client's pocketbooks. ecoSPEARS is partnering with Exelon through the Climate Change Investment Initiative (2c2i) to help deliver climate-friendly remediation solutions to markets where Exelon conducts business.
Exelon is a Fortune 100 company and the largest producer of zero-carbon electricity in the U.S., with emissions nearly five times lower than the next lowest emitting investor-owned energy producer. Exelon has selected nine startups to receive funding to reduce greenhouse gas emissions and mitigate climate change as part of the 2c2i program. The initiative demonstrates the Exelon Foundation's commitment to supporting programs that benefit the environment, particularly those in underserved communities disproportionately impacted by climate change.
"PCBs and dioxins are disease-causing toxins impacting millions of people worldwide. According to the United Nations, 90 years later, PCBs are still among the most widespread contaminants globally. We are on a mission to deliver much-needed, climate-friendly cleanup solutions. Exelon is the perfect organization to partner with to usher the net-zero future of environmental remediation," said Ian Doromal, EVP and Co-founder of ecoSPEARS.
In 2019, ecoSPEARS joined the United Nations' PCB Elimination Network (PEN) to assist the Network in meeting its 2028 deadline to eliminate PCB oil stockpiles worldwide. This goal is tied to the 17 Sustainable Development Goals (SDGs) set forth by the Stockholm Convention and subsequently adapted by the United Nations (UN). In conjunction with the UN, ecoSPEARS is committed to assisting in meeting the 2030 Agenda for Sustainable Development by adhering its core business practices to the success metrics of the following SDGs: SDG 3 (Good Health and Well Being), SDG 6 (Clean Water and Sanitation), SDG 14 (Life Below Water), and SDG 13 (Climate Action).
Funding from Exelon is helping ecoPSEAS advance climate change mitigation, adaption, and resiliency efforts through green and sustainable solutions.
About ecoSPEARS
ecoSPEARS is an environmental technology company ushering in the net-zero future of environmental remediation. ecoSPEARS designs and develops green and sustainable technologies to extract and eliminate PCBs, dioxins, and other Persistent Organic Pollutants (POPS) from the environment - forever. ecoSPEARS is the exclusive licensee of transformative environmental technologies developed by NASA. ecoSPEARS imagines a world where everyone has access to clean water, clean food, and clean air.
Source: ecoSPEARS