eCommerce Expo Launches Innovative, New US-Based Virtual Event for 2021
CloserStill Media, producer of the long-standing, highly successful UK based eCommerce Expo will bring the brand to the U.S. virtually in 2021, with an in-person gathering planned for 2022.
Press Release
-
updated: Feb 24, 2021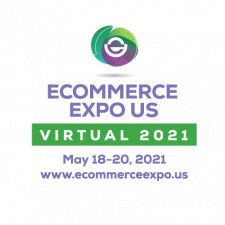 NEW YORK, February 24, 2021 (Newswire.com) - eCommerce Expo, the UK-based long-standing, highly acclaimed gathering of ecommerce leadership, is coming to the United States in 2021 - virtually. May 18-20, 2021, eCommerce Expo US will virtually gather senior e-commerce leaders to discuss the challenges, changes and commitments our industry faces.
Following highly successful virtual events held in the UK, this new launch develops a gathering of e-commerce experts & vendors, focused on compassion, connection and customers, with intentions of holding an in-person gathering in the first half of 2022.
"Our belief is that the next generation of retail isn't just about getting things done; it is about getting the right things done. It's about alignment - with our customers, our employees, our hearts and minds. Our speakers will focus on innovation, leadership, diversity and sustainability. We're excited to introduce an event that is supported by guiding principles that are timely and relevant to our industry," says Carl Miller, President of The Global Retail Insights Network (The GRIN Labs) and Head of Agenda Development for eCommerce Expo US. Those guiding principles include a commitment to deliver exceptional education and create connections that strengthen both the businesses of attendees & sponsors as well as improve the quality of experience the participants are able to provide their customers.
In addition to a robust line-up of nearly 100 speakers, the conference will feature live, interactive sessions featuring candid conversations with innovative brands and retailers making a difference in areas of diversity, sustainability and conscious leadership. Afternoon labs will provide attendees with immediate learnings as they watch a brand or retailer workshop a business problem with experts.
Agenda Themes for 2021
PURPOSEFUL INNOVATION: Learn About Innovative Business Models Driving the Future of Retail
CONNECTED & CONSCIOUS: Marketing Strategies for Creatively Reaching Today's Consumer
FUTURE THINK: Aligning new Approaches to E-commerce with Your Business
CREATING CONNECTION: Engage with the Hearts and Minds of Your Consumer
GLOBAL OUTLOOKS: Realize the Full Potential of Your Global Strategy
OPERATIONAL EXCELLENCE: Optimizing the Value Chain for Today's Consumer
PEOPLE POWER: How to Get the Most Value from Your Team
The eCommerce Expo US agenda is in ongoing development - additional details and speaker announcements can be found at www.ecommerceexpo.us
For Further Inquiries, Contact:
Joan Dyer
Head of Marketing, eCommerce Expo US
About CloserStill Media
CloserStill Media specializes in international professional events chiefly in the technology markets, across five global territories. Its portfolio includes some of the fastest-growing and award-winning events including eCommerce Expo and Technology for Marketing. Having delivered unparalleled quality and relevant audiences for all its exhibitions, CloserStill has been repeatedly recognized as a leading innovator with its teams and international events winning multiple awards in Europe, Asia and the USA.
For more information, visit www.closerstillmedia.com.
Source: CloserStill Media
Share:
---
Categories: e-Commerce
Tags: #consciousleadership, #diversity, #ecommerce, #ecommercemarketing, #sustainability, #virtualconference
---