Ecogy Energy Completes Rooftop Solar Array on Village of Ossining Operations Center Garage
Press Release
•
Jun 22, 2023
Westchester Community Solar Partnership System to Offer Energy Credits to Participating Residents and Supply Green Energy to Village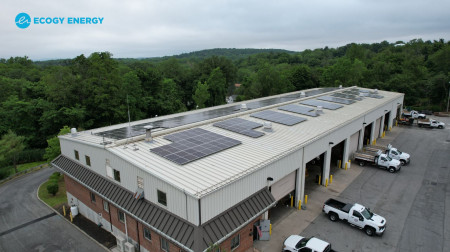 OSSINING, N.Y., June 22, 2023 (Newswire.com) - A state-of-the-art solar array is now operating on the roof of the Ossining Operations Center, producing 149.2 kW of DC electricity to support the Village's Department of Public Works. The system is the result of a partnership between Ecogy Energy, Sustainable Westchester, the New York Power Authority and Westchester County. Built in just six weeks by Croton Energy Group for Brooklyn-based Ecogy Energy, a developer, financier, and owner-operator of distributed energy resources, the project is the first to emerge from the Westchester Community Solar Partnership (WCSP), which will expand Westchester's municipal solar portfolio and circulate the benefits of clean, affordable solar energy.
Ossining Village Mayor Rika Levin said, "This project cements Ossining's reputation as a leader in New York's energy transition. We will continue to pilot innovative ways of decarbonizing our community that increase prosperity and help the environment."
Community solar projects allow multiple parties to benefit from the same solar array. Each party that signs up for the project receives credits from its local utility. Community solar projects democratize solar energy, making it accessible to those who may not have space to accommodate solar panels themselves. The greater accessibility is why they are an important part of Ecogy's mission to deploy energy solutions that are distributed, decarbonized, digitized and democratized.
The new community solar system was constructed without any tree clearing and is largely invisible to the public eye, as it is sited on the roof of the Ossining Public Works Department, tucked off New York Route 9A. The array will increase the percentage of electricity that Westchester gets from renewable energy sources, ultimately making the county's fuel mix greener and more affordable, and it will help York State in its effort to combat climate change by generating more of its energy from renewable resources.
"This project demonstrates the potential for this type of public-private partnership to serve as a model for rapidly expanding community solar access across New York State," said Justin E. Driscoll, Acting President and CEO of the New York Power Authority, which conducted the competitive solicitation and served as advisor throughout implementation. "This installation will supply affordable, clean and reliable green energy to the Village of Ossining, offer electric bill savings to participating residents and help advance New York's bold clean energy goals."
The project is not Ecogy's first in Westchester County. The company developed the largest solar canopy in the county above the parking lot of the Maryknoll Society in the outskirts of Ossining. The company has also constructed some of the first community solar projects in Westchester County, including systems in Yorktown and Croton-on-Hudson. Ecogy specializes in working with affordable housing communities, nonprofits, educational institutions, small businesses and municipalities in its mission to share the rewards of renewable energy with traditionally underserved entities.
Brock Gibian, Ecogy's VP of Development, said, "Given the enormous challenge of meeting energy demand with clean sources, and the enormous opportunity for economic growth and environmental healing that solar energy provides, the support of municipalities like Ossining is absolutely crucial. There's no time to lose in this race, and local support puts the wind in our sails to take us across the finish line. Westchester has our gratitude for its enduring and invaluable support."
The WCSP prioritizes benefiting low-to-moderate income (LMI) individuals and communities, and Ecogy's experience working with these communities is critical to the success of the partnership. All of the subscribers to the system atop the Ossining Operations Center will be local Ossining residents.
Jack Bertuzzi, CEO at Ecogy, credited local technicians for their contributions to the Ossining Operations Center solar system: "At the end of the day, somebody needs to actually gear up and turn into physical reality the solar systems we all want. That's what the local and skilled technicians of the Croton Energy Group did to construct this system, so we have unshakeable confidence in its quality and longevity. For the next 25 years, this system is going to be keeping the lights on in Ossining Village."
Emerging from a competitive Request for Proposal (RFP) from NYPA, which is driving the expansion of community solar programs across New York State, the projects are indicative of a larger, state-wide push toward sustainability. The project also received more than $175,000 from the New York State Energy Research and Development Authority (NYSERDA) through NY-Sun, the State's $3.3 billion initiative to advance the scale-up of solar while making solar energy more accessible to homes, businesses, and communities.
"New York is home to the strongest community solar market in the U.S., providing nearly half of the nation's community solar last year," said NYSERDA President and CEO Doreen M. Harris. "This project is the result of another successful public-private partnership and will help bring clean, affordable electricity to more Westchester County residents and businesses."
"It's a great day for solar in Westchester," said Leo Wiegman, Director of Solar Programs at Sustainable Westchester. "Community solar projects are a community effort. It takes federal and state level initiatives, coupled with the determination and expertise of our partners at Ecogy and NYPA to deliver these solutions. But now, the electrons circulating through our grid will be a little cleaner, and the power will be a little cheaper, so our hard work has paid off."
Sustainable Westchester, the designated community subscriber for the WCSP, will collaborate with Ecogy to enroll local residents in the program, offering reduced energy bills for program participants. Sustainable Westchester is a nonprofit consortium of Westchester County local governments.
Source: Ecogy Energy