eClincher, a Social Media Management Startup Unveils A Unified Social Inbox
Press Release
•
Jun 29, 2015
A California social media management startup, eClincher, released a powerful new feature that ensures you will never miss another important message or notification.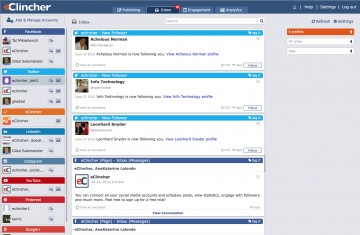 Mountain View, California, June 29, 2015 (Newswire.com) - eClincher, a new social media platform that helps businesses manage and organize their social media presence, added a Unified Social Inbox.​
The Unified Inbox collects and displays all social media messages, comments, and notifications in one location. Once the user reads or responds to the message, it can be marked as completed and be hidden from the Inbox view. Users can also create customizable tags to keep track of important notifications, comments, and messages, apply filters to view items of interest, search for a specific item, and much more. Currently, the Inbox supports Twitter, Facebook, Google+ and LinkedIn, but the company plans to add support for several more social networks.
"Our customers rely on social media to help them grow their business," said Salamander, the co-founder and CEO. "Our hope is that the Unified Social Inbox will help them worry less about missing important messages and notifications, while allowing them to connect with new and potential customers."

Gilad Salamander, Co-founder & CEO
The founders, Gilad Salamander and Tal Mikaelovich, have been working on eClincher's social media management platform for more than two years and are excited to offer the Unified Social Inbox to their customers.
For more information about eClincher, visit www.eclincher.com.
About eClincher
eClincher is a social media management platform that helps businesses manage and organize their social media presence in a straightforward and easy-to-use application. eClincher's features include publishing and scheduling content to multiple social accounts, monitoring, engagement, a unified social inbox, and complete social and website analytics.