EchoNous, Inc. Announces CE Mark Approval for Its Healthcare AI KOSMOS Platform
Press Release
•
updated: Mar 20, 2020
The first AI-assisted hand-held tool to increase diagnostic confidence at the bedside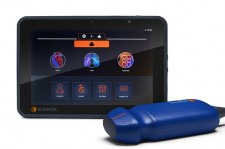 REDMOND, Wash., March 20, 2020 (Newswire.com) - ​​​EchoNous is very pleased to announce that its KOSMOS platform has been approved for CE Markets thanks to the unbending effort of its engineering, operations and regulatory teams. The company's engineering team has developed a medical tool that, according to physician feedback, significantly increases provider confidence in bedside diagnostics and clinical decision-making with AI-assistance. The CE mark approval was accomplished on March 16 and is occurring in parallel with EchoNous' achievement of readiness for first shipments by March 20.
Following several months of clinical evaluations, KOSMOS has been routinely described by physicians as an "exciting new kind of medical tool." KOSMOS includes an 8oz ultrasound imaging tool with embedded and synchronized ECG and digital auscultation, and a proprietary tablet built to withstand heavy use in clinical settings while protecting patient data.
The KOSMOS platform employs multiple layers of applied deep learning aimed at improving learning and confidence curves while still serving super users who demand high-quality imaging that can enable decision-making immediately at the point of care, without requiring a separate device.
Currently, the KOSMOS AI platform can measure systolic heart function, which has been clinically tested vs. expert measurements, yielding excellent results in precision and consistency.
In a parallel, EchoNous will soon file for clearance of the first-ever trio of algorithms that will enable users to have their image quality graded, their technique guided, and the heart anatomy labeled by machine learning algorithms.
The KOSMOS platform has been rigorously evaluated in acute care settings, specifically on 300+ patients, and also tested by hundreds of physicians across the United States, Canada, Europe and Japan in clinical demonstrations.
EchoNous has validated that KOSMOS is the world's first AI-assisted hand-held tool to move the needle into increased diagnostic confidence at the bedside, with capabilities proven to be equivalent to cart-based machines – for under US $10,000.
All of these capabilities reside within an 8-ounce tool connected to a custom-designed tablet, the Kosmos Bridge, which runs AI computation functions on the Bridge itself, eliminating the need for cloud-connectivity during use, and protecting patient and hospital data while ensuring there are no drops in service during scanning. The bridge is also designed to seamlessly connect data to the health system IT environment without the need for Internet connectivity.
Next steps for the KOSMOS platform include the release of continuous & pulsed wave doppler (Spring 2020).
The KOSMOS platform also has a full suite of clinical deep learning applications planned for its 12-24-month road map.
About EchoNous: EchoNous' vision since inception has been to create an unprecedented diagnostic tool in the hand-held format that is low-cost and delivers high clinical value through the meaningful application of artificial intelligence. EchoNous will continue to apply deep learning tools to clinical challenges in everyday healthcare.
www.echonous.com
www.kosmosplatform.com
Media Contact:
Anais Concepcion
​anais.concepcion@echonous.com
(425) 420-0517
Source: EchoNous Inc.