eBridge Connections and Aquilon Software Announce Strategic Partnership in Order to Integrate Aquilon ERP With Leading eCommerce Platforms, CRM Applications and More
Press Release
•
updated: Nov 21, 2018
eBridge originally joined forces with Aquilon Software to integrate WooCommerce for one of their clients. Now, the two companies are partnering to take advantage of eBridge's wide range of eCommerce, CRM and EDI connectors so they can offer integration options to even more Aquilon clients.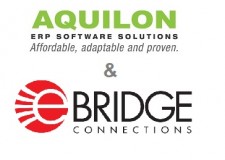 BURLINGTON, Ontario, November 21, 2018 (Newswire.com) - eBridge Connections, a leading provider of integration solutions for businesses worldwide, and Aquilon Software, a company with a robust ERP system designed to help small and medium-sized businesses set the stage for profitable growth, are proud to announce their new strategic partnership.
By joining forces, Aquilon Software will be able to offer those who use their ERP the ability to integrate with over 600 pre-built connectors that eBridge Connections has developed over 25 years using their universal integration Platform as a Service (iPaaS). This will enable businesses to automate data, bi-directionally, between Aquilon ERP and their eCommerce platforms, CRM applications, EDI trading partners and more.
Working with eBridge's solution, on the other hand, gives us the leverage we are looking for to connect our many clients to one of the many eCommerce platforms supported by eBridge.

Philip Patton, Founder, Aquilon Software
Aquilon Software offers an ERP that aids in financial management, distribution & supply chain, manufacturing, customer & supplier relationship management, and more. For small and medium-sized businesses selling products online or in-store, this ERP is an affordable and reliable solution. But often times, these sellers will need an easy and efficient way to push and pull data between their Aquilon ERP and the channels they are selling on. Through this new partnership with eBridge, Aquilon Software is now able to offer their clients a simple way to automate data entry across systems.
"We're excited to partner with Aquilon Software and offer their clients access to our ever-growing repertoire of connectors," says eBridge Connections Partner Manager Marc Darmon. "We are confident this partnership will be a mutually beneficial one for all those involved and look forward to helping Aquilon ERP users improve efficiency by eliminating the burden of manual data entry."
"There are so many great webstores in the market today that it does not make financial sense for Aquilon to write an interface to each webstore," adds Philip Patton, founder of Aquilon Software. "Working with eBridge's solution, on the other hand, gives us the leverage we are looking for to connect our many clients to one of the many eCommerce platforms supported by eBridge."
For more information on Aquilon Software, please visit https://aquilonsoftware.com.
For more information or to get started with an accounting/ERP integration solution today, please visit www.ebridgeconnections.com or contact us at marketing@ebridgeconnections.com.
About Aquilon
Aquilon is an independent provider of ERP software designed to simplify business for small and mid-size manufacturers and distributors. Focused on delivering an easy-to-use, robust and efficient solution with real-time visibility into all aspects of the business, Aquilon ERP is affordable, adaptable and proven. Our strengths lie in providing a simplified approach to technology, our industry experience, a strong partner network and regular software updates.
About eBridge Connections
eBridge Connections delivers powerful, cloud-based ERP and accounting integration solutions that automate vital business processes and eliminate the need for manual data entry. The eBridge universal integration platform supports over 30 ERP and accounting systems including Aquilon Software. With connections to the leading eCommerce and CRM applications, plus hundreds of EDI trading partners, eBridge Connections has become the integration platform of choice for businesses worldwide. For more information, please visit www.ebridgeconnections.com.
Source: eBridge Connections