Eastern Opera of NJ Presents Puccini's Searing Drama Tosca
Press Release
•
updated: Oct 27, 2015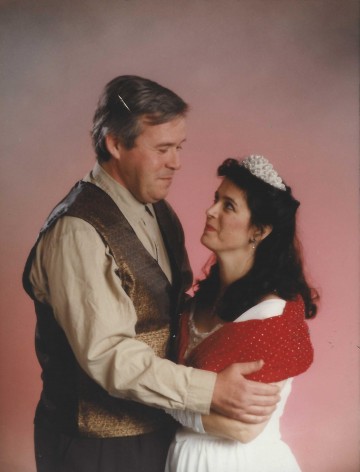 Bound Brook, NJ, October 27, 2015 (Newswire.com) - Eastern Opera of NJ ends its 3rd season with Puccini's Tosca.
As the story unfolds, the beautiful, talented, adored Floria Tosca is thrown into an unbelievable situation when she becomes trapped between her commitment to her lover Mario and a perfidious chief of police Baron Scarpia. In order to save Mario, Scarpia demands that Tosca give him an intimate sordid performance. Agreeing to Scarpia's price, at the moment of payment, Tosca delivers a disbursement that Scarpia doesn't expect when she plunges a dagger into his breast. Believing that Scarpia has written an order to save her Mario, Tosca witnesses what she believes is a mock firing squad but discovers that Scarpia's word was worthless. With her lover dead, she jumps over the edge to her own demise.
Tosca will be sung in Italian on Saturday, November 7 and 14 at 7:00pm and Sunday, November 8 and 15 at 3:00pm at the Brook Theater, 12 Hamilton St in downtown Bound Brook NJ. Tickets are on sale online at easternopera.org and by phone at (908) 566-5708.
Maestro Robert Butts, Eastern Opera of New Jersey's (EONJ) principal conductor, will conduct Tosca. Dr. Butts most recently made his Italian conducting and composing debut with a performance of his Saturnalia Strings and Pergolesi's La Serva Padrona in Crema, Italy in March 2015. He had his compositional debut in England with a performance of Early Morning Suite for classical guitar, performed in London by Stanley Alexandrowicz. Dr. Butts has been the principal conductor for Eastern Opera since its inception and is the founder and conductor for the Baroque Orchestra of New Jersey.
Singer, Director Karole Lewis, directs Eastern Opera's Tosca, which she describes as "passionate story of fight or flight. The beloved character Tosca has integrity, love and kindness. She is forced to give in to sin and her baser instincts. The first example is demonstrated by her jealousy for what she believes is another woman in Mario's life. Next she curses in front of the Madonna. Subsequently she lies to Scarpia when she tells him that Mario was alone in his Villa. These are fairly small turpitudes but when she kills Scarpia in a fit of rage, that really defines her instinct to save herself above all else."
Lewis' directing prowess expands a large range in repertory. She has directed with Eastern Opera, Opera at Florham, The Baroque Orchestra Summer Festival, Livermore Valley Opera (in CA) and Monterey Opera (in CA). Ms. Lewis is also an accomplished singer and has performed leading operatic roles in California with Opera San Jose, Oakland Opera, West Bay Opera, Monterey Opera, Livermore Valley Opera, and Santa Cruz Bay City Opera—a company she co-founded and for which served as General Director. She has sung major soprano roles in Madama Butterfly, Die Fledermaus, Otello and Carmen (with Eastern Opera), La Traviata, La Boheme, Le Nozze di Figaro ,Tosca, L'Elisir d'Amore, Carmen, I Pagliacci and Mark Twain and the General, among others. Karole was a finalist in the Metropolitan Opera's Western Regional Finals.
Sopranos Justyna Giermola (November 8 and 14) and Karole Lewis (November 7 and 15) will be performing the title role of Tosca. Ms. Giermola is no stranger to EONJ and recently sang the roles of Donna Elvira in Don Giovanni, Musetta in La Boheme, Nedda in I Pagliacci and Micaëla in Carmen. Ms. Giermola brings a traditional European flavor to opera with a layered, luxuriant voice, and striking beauty. The critics have written: "a soprano with a rich, velvety timbre," Glens Falls Symphony; as the featured soloist in Mahler's Lieder eines fahrenden Gesellen, "she displays all the qualities for a young soprano on her way to a wonderful career in opera." Justyna has sung with: the Aspen Opera Theater, International Institute of Vocal Arts, and the New Jersey State Opera West Essex Guild performing the role of Donna Elvira in Don Giovanni and the title role in Tosca. She performed as La Suora Infermiera in Suor Angelica, Auretta in Mozart's L'Oca del Cairo for Garden State Opera and the Mother in Hansel and Gretel for Opera 691. Ms. Giermola made her European debut at the Polish National Opera House (Teatre Wielki) in Warsaw, where she was featured in a concert promoting works of national composer, Stanislaw Moniuszko. In the summer of 2013, she sang Violetta in La Traviata for Teatro Giuseppe Verdi in Pollenza, Italy.
Tenor Peter Lewis will sing the role of Cavaradossi. Dr. Lewis studied voice with the late Frederick Jagel and coached with the late conductor, Jan Popper. After appearing as an Apprentice Artist with Santa Fe Opera, Peter performed numerous roles in CA with West Bay Opera, Monterey Opera, Livermore Valley Opera, Pocket Opera of San Francisco, and Santa Cruz Bay City Opera—a company he co-founded. He has sung leading roles in Madama Butterfly, Die Fledermaus, Carmen, Otello and I Pagliacci, La Boheme, Tosca, Don Giovanni, Carmen, and L'Elisir d'Amore among others. Peter has also performed the works of Sigmund Romberg and Rudolf Friml in retrospective concerts at the Smithsonian Institution in Washington D.C. Peter works by day as the Head of School at The Winston School of Short Hills, NJ.
Baritones Donald Boos (November 8 and 14) and Ted Dougherty (November 7 and 15) return to Eastern Opera of NJ in the role of Scarpia. Mr. Boos recently sang the role of Marcello in La Boheme and has appeared as featured artist with many New York and New Jersey music and opera groups including: New Jersey State Opera, Empire Opera, Dell'Arte Opera Ensemble, EnCanta Collective, Sacred Heart Cathedral Orchestra of Newark, Masterwork Chorus, and the Choral Art Society of New Jersey. He has sung both Scarpia and Sharpless for the New Jersey Opera Guild, Marullo in Opera Seabrook's production of Rigoletto and, most recently, Manfredo in Montemezzi's L'amore dei tre re with Empire Opera. In concert this year he sang a program of Neapolitan songs and arias for Bravo, and with the Richmond County Orchestra.
Ted Dougherty, resident of Hoboken NJ, has appeared previously with Eastern Opera of New Jersey in the title role in Don Giovanni, Silvio in I Pagliacci, Papageno in Magic Flute, Iago in Otello, Escamillo in Carmen and, Marcello in La Boheme. Mr. Dougherty hails from Baltimore, MD, where he performed with several professional ensembles, including the Baltimore Symphony Chorus. Since his move to the NY/NJ area, he has appeared with several opera organizations, including New York Opera Forum, Capitol Heights Lyric Opera, New York Metro Vocal Arts Ensemble, and Chelsea Opera.
About Eastern Opera of NJ
Eastern Opera Corp. is a 501 (c) (3) nonprofit corporation organized and operated exclusively for charitable purposes. Specifically, Eastern Opera has been formed to encourage and instruct individuals for the purpose of improving and developing their capabilities, to educate the public on subjects useful to the individual and beneficial to the community, and to promote the arts and culture to the local communities. For more information contact Lou Kersey at loukersey@easternopera.org or visit http://www.easternopera.org.
Tosca
November 7, 8, 14, 15, 2015
Cast:
Tosca................................... Justyna Giermola (8, 14)
Tosca................................... Karole Lewis (7, 15)
Cavaradossi........................ Peter Lewis
Scarpia................................ Donald Boos (8, 14)
Scarpia................................ Ted Dougherty (7, 15)
Angelotti............................. Micah Isley (8, 14)
Angelotti............................. Aiden Kim (7, 15)
Sacristan............................. Matthew Ciuffitelli
Spoletta.............................. Dmitri Zigrino
Sciarrone............................ Don Kalbach
Dates: November 7, 14: 7:00pm; November 8, 15: 3:00pm
Location: Brook Theater, 12 Hamilton, Bound Brook NJ
Tickets: Available on-line at EasternOpera.org or
by calling 908.566-5708
Seniors/Students $25; Adults $35.
For group rates, call 908-566-5708
To learn more about Tosca, please visit easternopera.org
Introduction to the Opera: Maestro Robert Butts will begin each act with a brief lecture describing the action to take place.
Related Media