Easter Joy for Thousands of Local Children
Press Release
•
updated: Apr 4, 2018
Centuries-old tradition brings joy to the next generation at the Clearwater Community Volunteers 26th Annual Easter Egg Hunt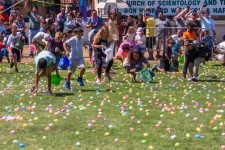 CLEARWATER, Fla., April 4, 2018 (Newswire.com) - ​More than 8,500 children and their families from across the Tampa Bay area participated in the 26th Annual Coachman Park Easter Egg Hunt organized by the Clearwater Community Volunteers (CCV). When the bell sounded at 12:30 p.m. on April 1, thousands of children dashed to collect their share of the more than 30,000 eggs, 100,000 pieces of candy and the 300 "Golden Eggs" they could exchange for large stuffed bunnies.
To protect the little ones from the mad rush to find the treats and make sure they found their share, CCV conducted hunts for different age groups in three locations simultaneously.
When all three hunts were over, the children and their families were invited to enjoy live entertainment, pony rides, a petting zoo, face painting, train rides on the "Bunny Express," a gyroscope, giant slide and bouncy house.
"Easter Egg hunts began as a tradition in the 1500s and they are still going strong," says Pam Ryan Anderson, executive director of Clearwater Community Volunteers. "We love to see children coming out year after year to enjoy this holiday with their families.
"Our activities are inspired by The Way to Happiness — A Common Sense Guide to Better Living written by humanitarian and Scientology founder L. Ron Hubbard, particularly the precept 'Love and Help Children.' If they are going to make it in this world, children need all the love and help that they can get."
Working to create a better community for all, CCV raises money and collects donations to help children and their families throughout the Tampa Bay area, partnering with charities including Public Defender Bob Dillinger's Nourish to Flourish, the Florida Sheriff's Youth Ranch and Pinellas County Sheriff's Police Athletic League in Lealman.
Clearwater Community Volunteers and local nonprofits cut the ribbon March 25 on the new Clearwater Community Volunteers Center located at 133 N. Fort Harrison Avenue. The CCV center was built to provide access to computers, a conference room and a multipurpose room for meetings and events with ample space to network and collaborate with others — at no cost to local charities.
The opening of this new center was the latest in a series of projects by the Church of Scientology to provide a complete foundation for area charities and nonprofit groups.
Source: ScientologyNews.org
Related Media