East Coast Storage Equipment Introduces Rackulator: The Warehouse Racking Calculator
Press Release
•
Apr 25, 2023
With Rackulator, customers can start planning and designing their next storage rack solution in minutes.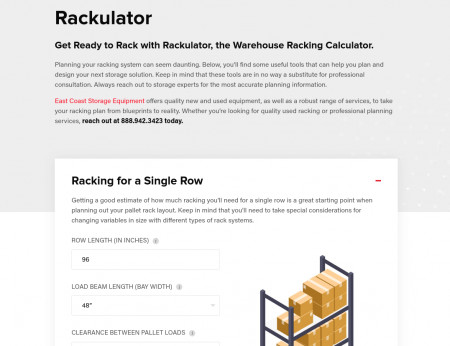 Brick, New Jersey, April 25, 2023 (Newswire.com) - To help customers better understand their pallet racking needs, East Coast Storage Equipment opens up public access to their comprehensive online tool Rackulator.
Released in February, Rackulator comes with several measurements modules:
Racking estimator for a single row
Aisle size calculator
Wire decking estimator
Beam capacity calculator
Pallet count estimator
Warehouse size calculator
With these tools, customers can learn more about their specific storage requirements and equipment demands. Paired with ECSE's vast used equipment inventory and service offerings, Rackulator opens up new doors for warehouses and other facilities looking for equipment estimates for their storage needs.
"While Rackulator won't replace a professional consultation, we hope this tool will help customers estimate their specific racking demands and get started finding the right equipment fast." - Paul Parisi - Director of Business Development
East Coast Storage Equipment is a trusted name in the material handling and storage equipment industry. With its vast inventory of used and new storage equipment like industrial metal shelving and pallet racking, ECSE is proud to provide both services and equipment all across the Nation.
ECSE invites both new and existing customers to come and try out Rackulator to help plan and design their next storage racking project. The tool is currently live and ready for users.
For more information on Rackulator or East Coast Storage Equipment, be sure to connect with Paul Parisi, Director of Business Development at ECSE.
Source: East Coast Storage Equipment