East Coast Liquid Celebrates Five Years in Business
Press Release
-
updated: Oct 11, 2016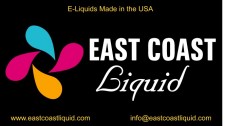 Wood-Ridge, NJ, October 11, 2016 (Newswire.com) - East Coast Liquid is celebrating 5 years in the E-liquid and vaping industry.
"We have supplied some of the biggest names out there as well as our own on-line stores," said Jonathan Hunt, spokesperson of East Coast Liquid. "We got involved in the industry to help others find an alternative to smoking analog cigarettes as we have done for ourselves. Little did we know at the time that this business was about to explode."
According to Hunt, the FDA is trying to push smaller businesses out by imposing regulations that will make it difficult for companies to comply with. Hundreds of applications for every product that a shop or on-line store would intend to sell at prices that have not been disclosed yet. The regulations would require companies file their applications and in return it is rumored that extremely large bill will be received. He believes as well as other companies in the industry that this is to protect the pharmaceutical and tobacco companies.
"Why is this happening," asks Hunt. "Well, let's think about it.  When you smoke traditional cigarettes, the tobacco companies get rich. When you get cancer, emphysema, and a whole host of other medical problems, the pharmaceutical companies get rich."
Furthermore, new research coming out from the international community that is showing findings that the industry is a making a step in the right direction.  
"We already know for a fact that cigarette smoking kills. So why would the FDA allow this to be sold? The so-called medications to help you stop are known to cause suicidal tendencies and a whole lot more but they are FDA approved," he said.
Regarding health benefits of vaping, Hunt shares, "We are not allowed to make any claims that vaping maybe better for your health so we won't. But what we can say is to give us a try. You, like many before, can make up your own mind. Check us out and let us know what you think."
As the vaping industry continues to evolve, both consumers and retailers will continue to address questions in this growing industry.  East Coast Liquid aims to educate and provide the latest news for its consumers.
​Media Contact: ​
​info@eastcoastliquid.com
Source: East Coast Liquid
---
Categories: A&E News, Mixed Media, Adult Entertainment
Tags: casaa, Cigarettes, Coils, E juice, E liquids, East Cost Liquids, electronic cigarettes, Kangertech, Mods, vape a vet, Vaper, Vaporizers
---