Earthling Security Joins the AWS Public Sector Partner Program
Press Release
-
updated: May 30, 2017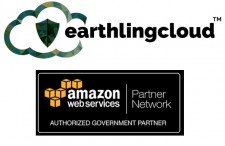 Tyson's Corner, VA, May 30, 2017 (Newswire.com) - Earthling Security, an end-to-end Cloud Computing, Cyber Security and Secure DevOps solutions company, and an accredited Amazon Web Services (AWS) Consulting Partner, has been selected to join the AWS Public Sector Partnership Program.
The AWS Public Sector Partner Program recognizes companies with a strong overall AWS practice, and demonstrates their expertise, experience and readiness to support government, education, and/or non-profit customer missions. The program was launched during the AWS annual user conference, re:Invent 2016, held in Las Vegas Nov. 29-Dec. 2. Within the AWS Public Sector Partner Program, approved partners are listed in one or more of the following categories: Government, Primary & K-12 Education, Secondary & Higher Education, and/or Nonprofit.
Earthling Security received the designation as Government Partner due to its capabilities to provide exemplary expertise in architecting and maintaining customer solutions on AWS for government, education and nonprofit organizations to securely store, process, transmit and analyze sensitive data.
"Earthling Security's inclusion in the AWS Public Sector Partner Program demonstrates how Earthling Security has established itself at the forefront of Cloud, Cybersecurity and DevOps in the federal sector. We've enabled numerous organizations and federal agencies to securely adopt the AWS cloud while minimizing their operational cost, optimizing architectures and maintaining regulatory compliance," said Yusuf Ahmed, CEO of Earthling Security. "Our expertise in AWS Cloud infrastructure, complex applications and regulatory controls clearly showcases our commitment to building our AWS competencies as well as our commitment to working within the Public Sector, Education and Non-profit sectors."
Using the EarthlingCloud™ platform or the FedRAMP-as-a-Service™ offering, organizations can take full advantage of the AWS Cloud infrastructure, our strategic professional services, and get the following benefits:
Custom Design and Migration to AWS based on business and compliance objectives
Fully managed, usage-based secure cloud environment
Complete Managed Cloud Security Operations (scans, patching, back-up, CMDB, intrusion detection, etc.)
FedRAMP, HIPAA, HITRUST, PCI Control Environments available
Managed Compliance (ISSO/Compliance-as-a-Service) included in subscriptions
Establish true Secure DevOps by integrating existing development teams with our security team
Enablement of large/sensitive data sets and analytics workloads
Support provided by certified Earthling Internal Auditors to navigate compliance certifications
Reduce time and cost to move to AWS cloud
Reduce time and cost to move to attain regulatory compliance and certification
About: EarthlingCloud™ and FedRAMP-as-a-Service™ are an AWS-based cloud platform, bundled service and suite of automation tools that are the foundation of many Earthling Security's key projects at several public-sector organizations, including the Centers for Medicaid and Medicare Services (CMS) and the Department of Education.
For more information on Earthling Security's Cloud Services, contact info@earthlingcloud.com
Earthling Security, LLC. is a strategic, end-to-end Cloud Computing, Cyber Security and Secure DevOps solutions company. Our focus is to provide tailored and strategic business solutions to support and optimize the business mission of our valued clients.
For more information about us, please visit our website: www.earthlingsecurity.com
For more information about EarthlingCloud™ or our FedRAMP-as-a-Service™ offering, please visit the following links:
www.earthlingcloud.com
www.fedrampaas.us
For more information about our secure collaboration platform, EarthlingDocs™, please visit the following links:
www.earthlingcloud.com/EarthlingDocs
​
http://www.earthlingsecurity.com/earthling-security-selected-for-amazon-web-service-aws-public-sector-partner-program/
Media Contact:
Yusuf Ahmed
yaa@earthlingsecurity.com
202.445.4959
Source: Earthling Security
Share:
---
Categories: Business Technology, Entrepreneurship, High Technology, Federal Government
Tags: Amazon Web Services, AWS, Cloud Computing, Cloud Hosting, Cybersecurity, earthling security, EC2, Federal Cloud, federal DevOps, FedRAMP, Secure Cloud
---