E-Tao - Do Easy Shopping and Pay With Cryptocurrency
Press Release
-
updated: Mar 9, 2017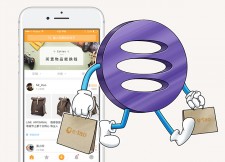 Beijing, China, March 9, 2017 (Newswire.com) - In the beginning of 2017, a new, fast and user-friendly application was launched on Chinese and Indonesian markets  - http://etao.io/ - for the sale of new/used goods. In the future, the project will be available for all English-speaking users, as well as for those speaking Russian and Hindi.
"Today, Chinese applications are already the most popular in the world. Such services have gained traction among many clients. Nowadays, every third smartphone owner in China is an active user of the platforms for the sale of second-hand things. We have gained the support of big business, and thanks to the unique design and technology of E-Tao application, we plan to change the existing industry, to take a leading position," notes E-Tao creators.
The portal has significant advantages in comparison with other similar services. The main difference between E-Tao is the blockchain system and the possibility to pay for goods with cryptocurrency. Bitcoin and other leading cryptocurrencies will be connected to the E-Tao application. Therefore, this modern technology will protect buyers and sellers from any kind of fraud.
"Payments in cryptocurrency is the niche service allowing to buy and sell goods without multiple conversions while maintaining anonymity and paying no attention to the dollar, the euro, and the yen fluctuations. E-tao will be the safest, most convenient and effective exchange platform of commodities, leaving behind those using old technology platforms," predicts market players.
Investors are confident that the E-Tao platform has broad prospects since similar projects attracted the attention of major investors.
"We remind you that recently the used mobile phones platform «Huishou bao» received "A" series investments in the amount of 100 million yuan. A few days later, the "Jiu Ai" company got "angel" investments in the amount of 30 million yuan," stated the company.
The interest in the projects, engaged in the sale of used items, is evidenced by the history of the Mercari platform owned by the Japanese company C2C. At the beginning of 2016, it held «D» round of funding worth $ 1 billion, becoming the first startup of Unicorn company in Japan.
Subscribe to the E-Dinar Coin Youtube channel
Follow the news on our Facebook and Telegram profiles
Media Contact:
Kate Tang
Phone: 646.389.5435
Email: contact@shoo-in.com
Source: E-Tao
---
Categories: Business Development, e-Commerce, Business
Tags: Cryptocurrency, E-Commerce, E-Tao
---