DYNAYAK--- the Latest Waterproof Portable Outdoor Power Station
Press Release
•
updated: Jan 6, 2022
---Work temperature from -40oC to 50oC / Waterproof Design / Strengthened frame / Fire-resistance magnesium aluminum alloy housing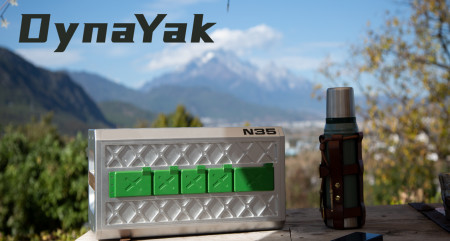 SHENZHEN, China, November 27, 2021 (Newswire.com) - DYNAYAK represents the great wilderness. N35 represents the isolated land at 35 degrees north latitude. N35 is designed just to meet a variety of severe environments and provide a stable and reliable power supply.
The inability to use electricity bothered outdoor enthusiasts for so many years. Till now, there has been no generator in the world that can work stably in low temperature and harsh environment.
A disastrous outdoor expedition through Xijir Ulan Nuur, Qinghai Province near Hoh Xil is really unforgettable. A car fell into an icy lake and all the equipment was flooded. It's a risk without any power station in such a severe environment for 66 hours. This story even has been made into a documentary to remind other outdoor enthusiasts that a real outdoor power station should be made.
The lack of electricity in extremely cold weather made many outdoor cross-country fans realize that the whole market was desperately short of a power storage device that can be freely used in any extreme environment.
It is a pity that no power station that can meet the request.
So, DYNAYAK decided to accept this challenge and break the limit. As a result, the professional storage equipment, N35, which is exclusive to outdoor enthusiasts, was born.
N35 is a simple hard industrial-style outdoor power station that can be used in severe outdoor environments.
It is the first time that the outdoor power station has broken through the rain, snow, sand, and other conditions, while it has a working environment of -40 degrees low temperature, 50 degrees high temperature, and 5000 meters above sea level.
Seamless aluminum-magnesium alloy shells can also play a good protective role in the case of vibration or fall.
At the same time, N35 adopts M-ICOB waterproof structure design. The airtight shell without a fan ensures that it can still work safely after immersing in water. With the protective function interface, N35 can be restored automatically after a short circuit.
Integrated with cooling shell design, the whole housing is an effective cooling system. With free convection cooling solution and partitioned thermal control, it assures an even temperature inside the unit.
The reliable components assure strong endurance in high-temperature weather.
With highly effective sine wave inverting technology, the efficiency of the professional Uniphase inverter p to 94%is u. It features 1800W long time loading and peak power up to 3000W. This allows you to power most devices.
N35 has experienced a variety of harsh environments like outdoor enthusiasts, and it has proved to be a success. It has gone beyond its limits, and so has DYNAYAK.
Availability
It's going to launch worldwide very soon. Follow us for the update.
Official website: https://dynayak.ytmfinnovation.com
For press inquiries:
DynaYak Pan
Source: DYNAYAK