Dynamic Female Artists Rachael Sage and Beth Hart Team Up for U.S. Tour
Press Release
•
updated: Jan 5, 2017
Rachael Sage to Join Beth Hart Tour, February / March 2017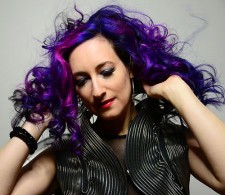 New York, NY, January 5, 2017 (Newswire.com) - ​Four-time Independent Music Award-winner and multi-instrumentalist Rachael Sage will join Grammy-nominated blues rocker Beth Hart on her upcoming U.S. album release tour during February and March 2017.
An adventurous pairing, both of these strong and passionate artists will perform their own soulful brand of music while remaining true to their roots. NYC-based Sage has released 12 albums of eclectic originals on her own label, MPress Records, and will join Hart for just over a dozen dates beginning in Atlanta, Georgia and ending in Kent, Ohio.
Part Bob Dylan - part Taylor Swift - Rachael Sage has the guts, vision and talent to embody both within the confines of her music.

MAVERICK UK
While she is most known for what The Village Voice describes as "lovely and literate folk-pop-rock", Sage also has a musical and personal connection to the blues. When she was a DJ in college, she became friends with the legendary John Lee Hooker and frequently visited his Bay Area home. The occasional jam on his Wurlitzer piano led Sage to pen the song "Blue Light" about Hooker. Shortly after, blues-rock vanguard Eric Burdon invited her to support his European tour, which deepened her admiration for the genre.
For Sage, it will be a particular thrill to share the stage with Hart, whose powerful voice she first discovered via the Off-Broadway show Love, Janis. Sage reveals, "I was absolutely blown away by her presence and her incredibly passionate vocals. From that point forward I've followed her career with enormous respect."
Sage's latest album, Choreographic, reflects not only her background in dance but a variety of her influences while also incorporating elements of rock, folk and Americana. Members of Ian Hunter and Patti Smith's bands appear on Choreographic alongside her regular touring outfit, The Sequins, with Sage playing both acoustic and electric guitar.
"Sage...seemed relaxed and confident as she shared anecdotes between songs. Her material had a warm, slightly off-kilter charm that won the trust of the room." - No Depression Magazine
Known for her impressive musicianship, colorful stage banter and for personally connecting with her audiences, Sage looks forward to providing support for Hart's "Fire On The Floor" tour, accompanied by guitarist James Mastro (Ian Hunter, Garland Jeffreys, The Bongos). After these dates, she'll then join synth-pop pioneer Howard Jones in the U.K. for the Spring leg of his world tour. Further details can be found via the official press release.
Rachael Sage is available for in-person, phone, or email interviews. Press considerations are much appreciated. If you wish to attend any of the shows for review or would like to request a copy of Choreographic, please email: press@mpressrecords.com
Source: MPress Records
Related Media
Additional Links