Dynamic Animated Series 'Kid's Zombie Adventures' Launches on TubiTV, Showcasing the Importance of Teamwork Against a Grand Adventure
Press Release
•
Oct 29, 2021
Woodberry Studios' Kid's Zombie Adventures introduces a young, diverse team with everyday abilities who become superheroes when they join forces.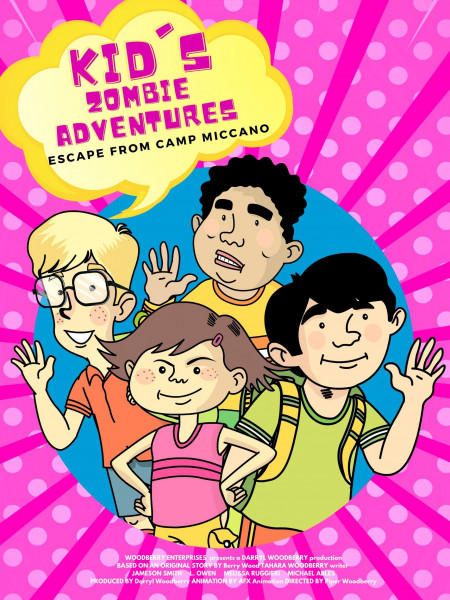 HOLLYWOOD, Calif., October 29, 2021 (Newswire.com) - When everyone works together and embraces what makes one another unique, the greatest obstacles can be overcome, even a zombie apocalypse. With his new television series, Kid's Zombie Adventures, author and show creator Darryl Woodberry hopes to inspire children to discover this in themselves and their friends.
Based on the adventure/coloring book by Berry Wood, this fresh, thrilling, new animated series features a diverse group of children with unique capabilities who come together in extraordinary circumstances to escape the great zombie invasion. The kids overcome unexpected obstacles and challenges by teaming up and saving the day working as a team.
Synopsis
S01-EP01 | Episode 1 "Escape from Camp Miccano."
The Camp Miccano campgrounds have been invaded by zombies. A smart, adventurous, diverse group of kids team up to stay safe. Each exhibiting unique capabilities, our heroes, have to combine their strengths in order to overcome crazy challenges and unexpected obstacles as they make a successful escape.
S01-EP02 | Episode 2 "Mystery of Sellers Lake."
Amanda, Keydon, Sammy, and Michael made it out of Camp Miccano, but as they head deeper into the woods, they come upon Seller's Lake and quickly discover there is more to this mysterious lake than meets the eye.
Watch Kid's Zombie Adventures now free on TubiTV (here), and it is available to rent and buy Vimeo on Demand (here).
Author and series creator Darryl Woodberry was inspired by his family to bring the world of Kid's Zombie Adventures to life. Like our heroes in the story, Woodberry built a team around him that brought out the best in one another and has made the series an uplifting and enjoyable experience for families worldwide. His team of superheroes included his daughter, Piper Woodberry as Director and granddaughter, Tahara Woodberry as the series writer.
"I created this series because I have had an opportunity to be present for the raising of my grandchildren," says creator Darryl Woodberry. "They need to think outside the box and recognize the strength of working together with others - as a team. Everyone has something to offer to make a team stronger and better."
Featuring the characters Michael, a bookish boy (Caucasian) (voiced by Jameson Smith), the fearless Kayden (Latino) (L.Owen), athletic Amanda (Asian-American) (Melissa Ruggieri), and the shy Sammy (African-American) (Michael Ables), Kid's Zombie Adventures shows how our everyday abilities can become superhero powers when we join forces with others.
Watch Kid's Zombie Adventures
Tubi: Watch Kid's Zombie Adventures - Free TV Series | Tubi (tubitv.com)
For more on Kid's Zombie Adventures, visit https://kidszombieadventures.com and please direct all media inquiries to KZA@epecmedia.com
Source: Woodberry Studios