Dutchland Plastics Opens Its New 50,000-Square-Foot Factory in Canastota, NY
Press Release
-
updated: Oct 17, 2018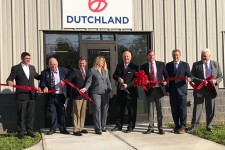 CANASTOTA, N.Y., October 17, 2018 (Newswire.com) - "We are making a major investment in this community because we believe in the people who work and live in this community," said Randy Herman, CEO of Dutchland Plastics. "Over the years, we've seen the amazing craftmanship and outstanding work ethic this community has to offer. To support future growth our plans are to continue to invest in this area."
"The canal community of Canastota has a rich history, and New York State is investing to ensure progress for a prosperous future," said Lieutenant Governor Kathy Hochul. "Dutchland Plastics' decision to expand with a new facility in the village will create additional job opportunities and spur economic growth in the area. The Central New York region is rising with state investments to help companies like Dutchland Plastics grow and to continue to attract new businesses and visitors to the area."
Village of Canastota Mayor Carla DeShaw said, "We are very excited to welcome Dutchland Plastics to the Village of Canastota. This RESTORE NY project is a great example of remediating and revitalizing an abandoned industrial site and bringing it back to life as a value-added economic property in our community. Through the collaborative efforts and perseverance of the Governor's office, Empire State Development, Madison County IDA, private developer AECC, and the Mayor's office, 45 new jobs will be created in the Village of Canastota. I am very excited about the local career opportunities this project brings to our residents looking to upgrade or obtain a higher paying job.  I'd like to thank Governor Cuomo for supporting this project."
For the better part of the last decade, Dutchland Plastics has been producing gas tanks and fenders for Ferris Industries, a division of Briggs & Stratton that makes commercial lawn mowers at a facility in Sherrill – about 9 miles away from the new facility.
This is in addition to the 200,000 sq. ft. state-of-the-art plastics manufacturing facility Dutchland operates in Oostburg, Wisconsin.
Construction of the new facility began earlier this year, and the project benefited from $475,000 in tax credits through the Empire State Development's Excelsior Jobs Program, and a $1.7 million Restore NY grant, which was reallocated by Empire State Development with construction. The tax credits are contingent on the company meeting its job commitments.
Dutchland invested $2.6 million for capital equipment and to customize the new plant, which was built along the Erie Canal. The 23 employees from the Sherrill plant will be moved to the new facility, and Dutchland plans to create 42 new jobs over the next two years.
About Dutchland:
Dutchland Plastics is one of the top five manufacturers of custom rotational molded plastic products in North America. The company manufactures a wide variety of products including coolers, kayaks, furniture, tanks, playground equipment, material handling and specialty equipment. For more info about Dutchland, visit dutchland.com.
Press Contact:
Tim Hogan
Phone: (843) 696-0657
Email: thogan@thevxgroup.com
Source: Dutchland Plastics
Share:
---
Categories: Plastics
Tags: canastota, grand opening, molding plastic, new york jobs, plastic manufacturing, plastic molds, plastic products, recreational products, rotational molding, rotomolding
---