Dusun Electron Announces New Bluetooth® Audio Module for Wireless Speaker and Artificial Intelligence-Based Voice Assistant Products
Press Release
-
updated: Jun 5, 2019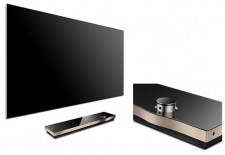 AMSTERDAM, Netherlands, September 18, 2017 (Newswire.com) - Dusun Electron Ltd. is announcing its new Bluetooth® audio module, DSI-0095, based on Qualcomm® aptX™ Low Latency audio technology, for wireless speakers and artificial intelligence-based voice assistant products to deliver the highest audible sound quality with enjoyable listening experience over Bluetooth connectivity. With the DSI-0095 module audio data can be preserved with less than 40ms transmission latency, resulting in a voice assistance product can be used as a hands-free control device to effectively interact with visual media devices, home appliances, or car equipment by voice.
The use of artificial intelligence-based voice assistants is growing rapidly. This has changed the way consumers interact with visual media such as TV and Set-Top Box to search for media content and services. However, for a Bluetooth-enabled voice assistance device to be reliably in sync with TV media content to deliver high quality audio and synchronized user experience, the sound needs to be delivered with low-latency. With its low-latency transmission, the DSI-0095 can ensure sound delivery in synchronization with what you're viewing on TV.
The DSI-0095 module has enabled Skyworth's latest Wallpaper TV to output high fidelity (Hi-Fi) audio and listen to on the Bluetooth handset and to playback music on TV from the mobile phone or other audio equipment. In addition, this module has enabled Skyworth's artificial intelligent voice assistance product to precisely deliver voice commands wirelessly to comfortably and enjoyably connect with local business and services offered by TV. "Artificial intelligence is the development trend of the TV industry for voice assistance; it is as a new way to interact with TV without needing a remote control, the high audio performance of Dusun's Bluetooth audio module is the cornerstone of its implementation", said Li Zijian, Peripheral Product Manager of Skyworth.
"By integrating aptX Low Latency technology into the new DSI-0095 Bluetooth audio module, Dusun are enabling a premium audio experience combined with the ability to allow consumers to watch video while listening to wireless audio with no lip synchronization issues," said Jonny McClintock, director, product marketing, Qualcomm Technologies International, Ltd.
"Dusun is pleased to collaborate with Qualcomm to integrate its CSR8670 Bluetooth audio SoC solution with aptX Low Latency audio technology which has been used by many leading consumer electronics companies to achieve high quality, low latency audio transmission over Bluetooth," said Benny Chan, Chief Executive Officer of Dusun. "And I am excited to offer our latest Bluetooth audio module to enable Skyworth with time-to-market advantage and cost competitiveness to deliver its TV and artificial intelligence-based voice assistant products predicated on superior audio performance and design experience."
About Dusun Electron LTD
Dusun Electron Ltd., a high-growth global leader and provider of remote control and sensing technologies for emerging Smart TV and IoT is uniquely positioned with a broad-based wireless technology portfolio inclusive of ZigBee, Z-Wave, RF4CE, Bluetooth, Wi-Fi, 3G/4G/LTE, and navigation paradigms with Voice, Touch, Motion Pointing, Gesture Recognition, and Virtual Reality Control. More so, Dusun is proactively leveraging software and hardware advancements and project developments encompassing world-class innovations for the IoT solutions including Smart Home and Smart Hotel, and Elder Care Assistance.
The company specializes in design, development, and manufacturing of innovative products and solutions that are used by the world's premier brands in such markets including Smart TV, PayTV & OTT, and IoT sectors.
With design and development excellence and core competencies in introducing many technology firsts-to-the market, Dusun further demonstrates its commitment as a world leader in its field over traditional remote control competitors. The company has expanded its products and technology platforms to include the growth of Security and Home Automation control and other IoT applications requiring wireless gateways, sensing devices as well as cloud-based management system.
Founded in Zhejiang, China in 2002, Dusun is solidly founded on the mission of deep experience in Consumer Electronics devices and is dedicated to research and development, presenting itself as an innovator in enabling its customers to excel in new interaction techniques, user experience and usability approaches.
Qualcomm aptX is a product of Qualcomm Technologies International, Ltd.
Dusun Media Contact:
Taylor Zhou, Vice President of Sales and Marketing
sales@hzdusun.com
+86057186796578
Source: Dusun Electron
Share:
---
Categories: Home Theater and Audio/Visual Equipment, Electronics, Consumer Electronics
Tags: aptX, artificial intelligence, audio module, BLE, Bluetooth, HD, Hi-Fi, low latency, STB, TV, voice assistant, wireless speaker
---